| | |
| --- | --- |
| Estimated reading time: 2 min. | Mónica Pons InterPatagonia.com |
In the heart of Alto Valle (High Valley), this place invites famlies to spend the day or camp as they enjoy air, sunshine and water.
In the City of General Roca, when the weather is hot, the option is to reach the river bank and take advantage of its beaches, the water and the recreational area known as Isla 32, a very popular site for recreation visited both by locals and tourists.

Very close to the downtown area and on the left margin of the Negro River, there lies the municipal swim hole and some private clubs open to visitors. A golf club, a polo club and the Club de la Asociación Española (Spanish Association Club) offer barbecue areas, swimming-pools and a wide array of courts and fields for the practice of various sports.

That variety of options represented enough reasons for us to visit this place and spend the day with the family. As we arrived, we had a pleasant surprise as we saw the well-disposed grills, the cleanlines and security services.

Then we learned that the local municipality coordinates and organizes various recreational activities for children and youths. There are very good facilities to practicee swimming, gym, football or volleyball and a great deal of enthusiasts. We observed a group of children that was learning to swim with an instructor in a huge swimming-pool.

We wished to see every corner, so we went for a walk around the beautiful vegetation made up by willows, olive trees and poplars that in turn provide shelter for a wide range of birds. On the coast, we watched some black-necked swans, cormorants, herons and a great variety of ducks.

We resolved to make a stop to sunbathe in a space with green grass as a multitude of passers-bye went up and down the area.

Following the circuit, we saw another eye-catching site: the extensive beach known as El Náutico, on the main arm of the Negro River and to the east of the road bridge. We had to cross the bridge and take the first detour on the left. The banks are made of pebbles and several competition rowing boats slide along the waterway. We were told that jet skiing and water skiing are available in the area and that these disciplines are carried out under strict security rules, as the stream current is quite intense.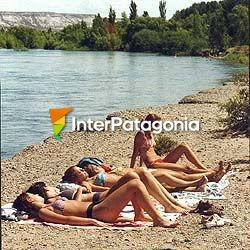 Afterwards, we went towards the site known as Balsa Vieja (Old Raft), which even though it does not offer the same amount of services as the previous area, gave us the chance to enjoy a quiet space where we had our picnic. The area is wilder, with a pebble beach, but also quieter.

Thus, we turned a hot summer day into an interesting ecological tourism option that contributed to our rest away from the noise of the city center. A great finding!
| | | |
| --- | --- | --- |
| | Leave the city following Primeros Pobladores Street (the continuation of Mendoza Street) or along Viterbori Avenue (the continuation of Roca Avenue) towards the south of Route 22 up to the left bank of the Negro River. | |