We joined a hiking group and went on a tour to the mountain. We filled our body with energy and our soul with pleasure.
As the day began and while we were still enjoying a hearty breakfast at the Ecolodge, the prevailing topic was the hiking tour that would lead us to a cascade. We got rid of laziness and let enthusiasm take hold of us. Wearing comfortable clothes and footwear, we showed up at the club house at the time we had arranged. As the rest of the group began to mingle, we visited the gardens and saw that Juan, our guide, had just arrived. The waterfall was on the opposite margin of the Queulat River; therefore, it was necessary for us to cross to the other bank by boat. Carrying our paddles and backpacks, we left towards the shore feeling fine. We took only a few minutes to cross the river as it was quite narrow. We followed a well sign-posted trail in a single file led by Juan's steps. We were surrounded by lush vegetation. Countless water threads coming down the mountain gave moisture to the environment. The moss invaded trunks and all kinds of plants. We were astonished to see so many parasite, climbing plants giving shape to a perfect vegetable web. During this first stretch, we crossed several bridges that added an adventurous feeling to our hike. Some low trees made us duck; we went over some bulky logs too. Juan told us about trees, birds and everything around. "The trail goes up little by little; we will move slowly and keep strength for what is coming", he continued.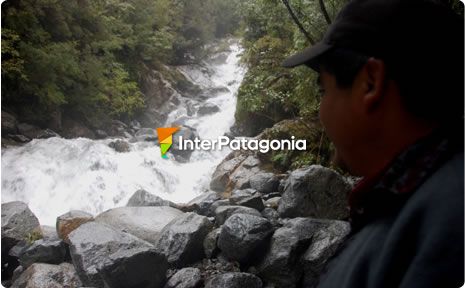 Thus, as we reached a clearing in the forest where there were several benches made of local wood , we chose to rest for a few minutes and behold the surroundings. Juan told us: "We will reach a 90-meter-high cascade. That is the height we have to sort out. I always warn everyone in case they prefer to wait here until we come back". We could not help thinking: "this is a good place to enjoy reading by the murmuring creek". The next trail led us through a myrtle-tree forest with their thick roots at sight, entwining with the rocks that emerged from the soil. Six-hundred-year-old species with leafy canopies tinged everything in a cinnamon color. We were half-way through and a soft water murmur could be heard. From that point on, the slope became steeper and we had to take a deep breath and watch our step to make good use of our impulse. We all endured and received our prize. On our way, we came across small works of engineering made with logs: rails and steps on the ground let us sort out obstacles easily. These aids were very well built and in perfect harmony with the local nature. The birds, used to the silence, felt we were invading them. A small
chucao
with orange chest, brown head and very powerful trill detected our presence. It was necessary for us to come to a halt at a viewpoint, where the sound of the water reached our ears and confirmed Juan's words: we were very close.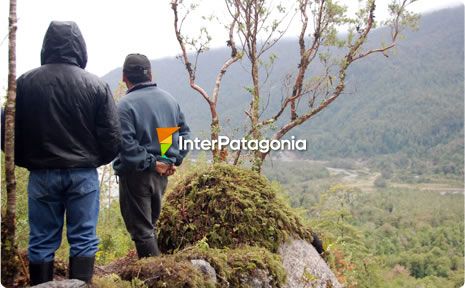 Reaching the waterfall on foot meant having reached our destination and enjoying the fantastic force of the waters. Likewise, this was a strategic observation spot. The point where the cascade begins, the Queulat Fjord and the Queulat River, the Southern Road, everything was there for us to enjoy. This is a magnificent occasion for lovers of nature to join physical effort with contemplation of a unique environment in the Patagonian forest.