| | |
| --- | --- |
| Estimated reading time: 3 min. | Mónica Pons Eduardo Epifanio |
A short but lovely tour around a town which seems to be a journey back in time. Located at a strategic point in the vast Argentinian Patagonia, it shows a profitable cattle activity.
The first impression visitors to Río Mayo get is of a big but quiet town. We strolled along its streets and we could not find its shopping center. The stores seemed to be unconnected with each other.

We stayed at a hotel and talked with the people of this town and our first idea changed. Little by Little, we learned about its idiosyncrasy and the activities which brought Río Mayo to life. A good number of accommodation facilities indicates that the town is used to welcoming tourists, even if they are just making a stop on their way to another destination.

We accepted the idea of cycling thoroughly around the town. We realized that both young and older people used this popular means of transport. We started our tour at the site where the National Shearing Festival takes place year after year during three days in the month of January. This celebration rewards the effort of all the shearing workers in the large Patagonia.

A great deal of people coming from outside Río Mayo attend the display of hand-knitted items, the gaucho parades and rodeos and, particularly, the shearing contests in which both men and women take part.

On the stage, visitors can see musical concerts with local artists as well as renowned artists in Argentina. On those days, the town changes its appearance. Among bonfires, traditional dishes and asado, all is music, bustle and hustle.

We took the coastal road of Río Mayo which was part of the tour. The river runs downhill, its watercourse is permanently changing and it brings a great volume of water during the meltdown season. The "Puente Viejo" (Old Bridge) was destroyed by a flood and its remains pay tribute to this mandatory passage for cart drivers.

In summer, the people from Rio Mayo visit the river resort to bathe and cool down from high temperature. As we wandered around, we smelled a mint scent from the low vegetation all around.

We learned from Leandro Gigena, our guide, that this river offers spots full of trouts and salmons for fishing enthusiasts to enjoy a good catch. And, this happens only a few kilometers away.

We headed for the downtown area and we realized that all the buildings were low and featuring large backyards. There was neither pollution nor spoiling of landscape.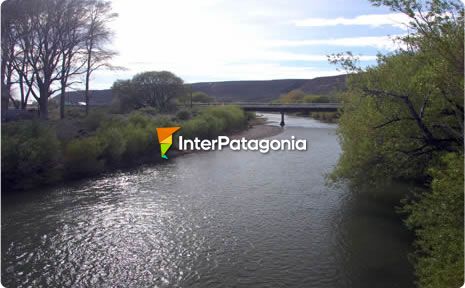 Walking around

We left the bikes leaning on a tree and wandered around San Martín Park. It was a green space crossed by a stream and Menuco Pond, with a place for social, cultural and recreation activities.

This spot used to be the meeting point for old cart drivers who needed to have a rest along with their horses. A cart with huge wheels was left as a souvenir of a town in older times and we imagined this cart driving on these dust roads carrying the most precious thing, the fleece.

Leandro said: "Fifteen Criollo horses pulled this cart and carried the wool to Sarmiento, from where the train left to the port of Comodoro Rivadavia". The town hall, the town council and the library buildings are situated opposite the main park.

During our tour, we visited the Monument to the Criollo Horse and another one to honor the shearing workers. In the latter, we could see two open hands holding a fleece, a symbol of the hard work of shearing.

As we went past A'Ayones Park, we found a group of young people who were playing the guitar, which is usual here, according to Leandro, due to the lack of a shopping mall or cinema. A water fountain and a huge mural painted by a local artist were the highlights.

In the heart of downtown, we found two campsites: the one next to the Culture House has a stream and a stage where there are crowded musical shows in summer.

The workshops offered by the municipality, such as, handicraft, knitting, weaving and woodcarving are open to curious people and this is a way to show something about the community.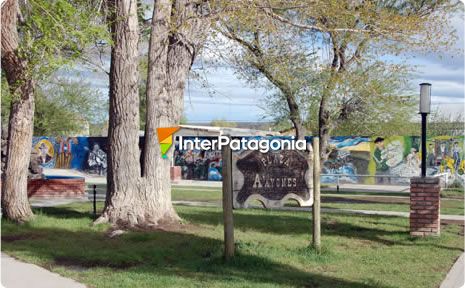 The municipal gym and a beautiful football field are the pride of the people who live in Rio Mayo, since sport plays a main role within the popular hobbies of this town.

Leandro had promised to come with us by car to the viewpoint, a panoramic spot from where we could see the town from the highest point. (linkear a Mirador Atardeceres)

We ended up our tour at about midday. At the nap time, streets were almost empty. Stores closed and everyone took a nap before going on with their usual activities. We thought that this habit defined a lifestyle.

The bike as a means of transport to visit the town was not a coincidence. Biking made us exercise, go back to our childhood and enabled us to become another inhabitant of this town for a while.

With a simple gesture, we showed our gratitude for the silence and tranquility reigning at this place.