| | |
| --- | --- |
| Estimated reading time: 2 min. | Mónica Pons Eduardo Epifanio |
The House of Culture shelters this amusing museum whose collection pieces take us back to a not-so-distant past with high historical, social and cultural value.
Dr. Federico Escalada Museum is a small space with a huge meaning conveyed by its pieces of great symbolic value. They show the urban and rural life of Río Mayo and southern Chubut.

We went around the museum building, which used to house the first elementary school in Río Mayo. No wonder it has such an emotional value: it lodged the experiences of the first pioneers in Río Mayo.

During this educational tour, we came across a typewriter from 1895 and the old desks. These details date back to the days on which the school was still operating. Likewise, archeological pieces such as arrow points and other elements give evidence of the presence of natives in the area thousands of years ago. Besides, we appreciated a big portion of the instruments used by Doctor Federico Escalada, a physician working for Gendarmería Nacional, who made important contributions to the population.

When the old school was about to be torn down due to its bad state of repair, a group of people from the community worked in a project to restore it, keeping the original structure. In 1997, the House of Culture and the Museum were inaugurated at the same time.

Today, the building offers the chance to dictate courses, workshops and present exhibitions that make the entire population feel truly proud. Recreation, learning and debates enrich the cultural life of Río Mayo in its rooms and micro-cinema.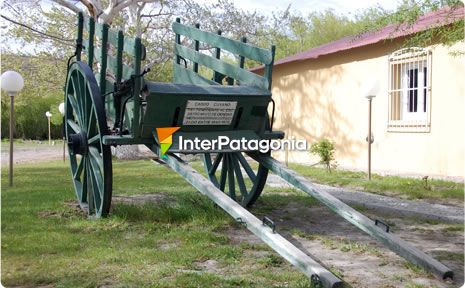 This is the main engine that keeps the soul of the museum running. This is its prime purpose. We had the chance to visit it, value it and learn a little bit more about this town in Argentinian Patagonia.

Museo Regional Dr.Federico Escalada
Av. Ejército Argentino s/n (9030) Río Mayo - Chubut - Argentina
Tel: +54 2903 42-0400