A visit around the Don José Guenguel estancia to learn about his undertaking involving the raising of guanaco and to enjoy a mild afternoon in the countryside.
Crossing the gate that sets the beginning of a leafy path bordered by poplars, Norma Mazquiarán, our hostess, was awaiting us. More relaxed after a busy season, she sat down with us in the dining-room to enjoy a mild sunny afternoon.
In 2004, she opened the doors of the family house in order to welcome guests who are searching for the peace of the countryside. But her vision of rural tourism began some years ago when she resolved to study and be trained in this discipline.
Nowadays at the head of this emerging undertaking, Norma left her brothers Juan José and Nelson in charge of the wool production, a family tradition that was recognized with several national awards.
After tea, we strolled about the nearbies of the shell at the foot of a hill, we went up a path to the vantage point and we stayed there for a while watching the vast 24,700-hectare field.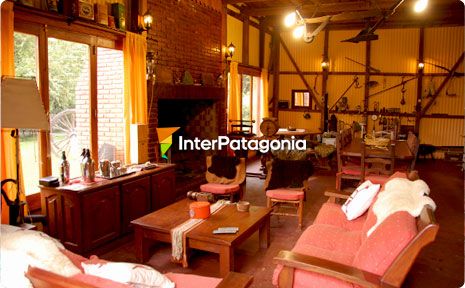 White Belly


The Tehuelche people would see a resemblance between the guanaco's white belly and the cliffs surrounding the valley. A group of archaeologists discovered a cemetery there and a cliff overhang with cave paintings dating from the late Patagonia period, 1,000 years ago.


Norma would tell us how the history of the estancia is related to the growth of the town. The first school of Río Mayo would work there, very close to the warehouse, which dates back from 1926 and preserves the original wooden desks.


As we headed for the animal pen, we saw don Millafilo passing by with an alfalfa bale. The chulengos (the guanaco young) already know him and quickly approach him. Thus, we took advantage of the opportunity to feed them and take several pictures. Already used to visitors who take part in the rural tasks, even shearing, the guanacos at the estancia are more than privileged.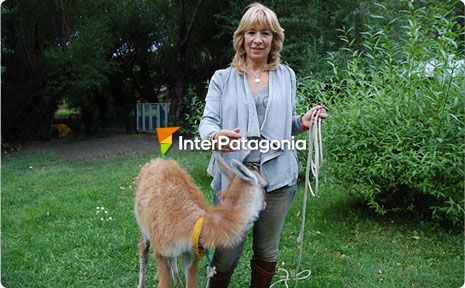 The Guenguel project, carried out by the Mazquiarans since 1998, is based upon the fabrication of fine fibers, Australian merino and guanaco wool, among other varieties, and upon the making of woven garments. The Guenguel collection may be acquired at the estancia, at exclusive shop windows in El Calafate and Buenos Aires.

Estancia Don José offers the chance to accommodate guests at the main house or else at the cabins, specially designed for guests, with all the comfort and services necessary to ensure a perfect stay.
| | | |
| --- | --- | --- |
| | travel 2.5km along an adjacent path located to the west of the central area of Río Mayo up to the Don José estancia. | |
| | | |
| --- | --- | --- |
| | Ask about rates. The schedule is made pursuant to guests' preferences. | |
| | | |
| --- | --- | --- |
| | The estancia welcomes guests from October until Easter. Ask about the rest of the year. | |

Don José
a 3 Km. de Río Mayo (9030) Río Mayo - Chubut - Argentina
Cel: (0297) 15-6249155













In my opinion, rural tourism is an activity with much to offer. When we resolved to open our home in order to welcome visitors interested in this new trend, I was aware that it was a big challenge but that it was going to be very gratifying at the same time. It is fantastic to welcome various people from your country or abroad who are in search for the countryside quietness and who, after sharing several moments, end up becoming your friends.
Norma Mazquiarán