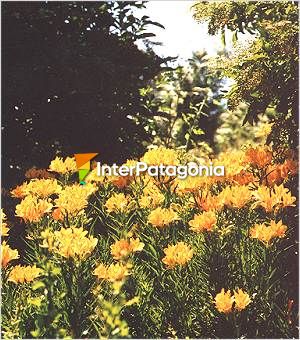 Andean-Patagonian forests are ideal for trekking and putting physical and boots resistance to the test.
Getting to know Lake Quillén is in itself an adventure, enabling us to spend the night and hike in spectacular, virgin territory. The native vegetation and pristine air are a blessing for both body and soul. Leaving
Aluminé
behind, we drove south to a fork leading west towards the
cordillera
. We later spotted some anglers casting their flies in Quillén River, flowing alongside the road. We then reached the
Currumil
Mapuche community with its typical wooden houses and animals grazing in the grasslands. Several
estancias
breed cattle and some lodges accommodate hunters on their way to private hunting preserves in the area. Lush vegetation marked the entrance to Lanín National Park.
Coihue
and
lenga
forests are larger than monkey puzzle ones and also include exotic species which have adapted to the habitat. The bright colors of the flowers stood out among the myriad shades of green on the mountains. We got all the information we needed to make the most of our visit from the park warden.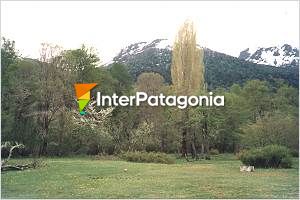 First Prize
The north coast of Lake Quillén is low, wide and stony. Sitting a few meters from the shore we discovered the spectacular ice cone of the Lanín Volcano, its almost 4000 meters towering behind the mountains. We opened our backpacks, set up our tents and made use of the tables, benches and bathrooms at our disposal. We watched some fishermen go by in their small boat, slowly gliding along the water in search of a different spot. Only catch and release fishing is allowed, trolling is banned. This is what sport fishing is all about! We had prepared to go on several outings. The guides showed us every step of the classical trail joining Lakes Quillén and Hui Hui. The round trip was about 13 kilometers long and we could either hike or cycle. We had to make it back the same day as camping in Hui Hui is not allowed. Only the beginning of the trek covers abrupt terrain, the rest goes along flatter ground in the mountain forests. "The warden told me we'll be seeing wild strawberries on the way," one of the hikers said. "Quillén" actually means "strawberry field" in Araucanian. The perfect dessert for a hike in the summer sun. The adventure was ours for the taking.