| | | |
| --- | --- | --- |
| Estimated reading time: 1 min. | Karina Jozami | Karina Jozami |
A tour on horseback across the fields that lie near the town in order to behold the wild sceneries of Aluminé from one of the best vantage points.
It is hard to get away from the charm of the Aluminé River, but when distance is taken and the scenery surrounding the town is appreciated, the natural postcard is magnificent and complete. Even more when the vantage points are reached on horseback across the fields owned by the settlers.
We were invited by Martín Guzmán, who has organized tours on horseback across the lands that used to belong to his grandfather, among other interesting circuits, for 2 years.
The silent streets began to wake up from the nap when we met Martín at his own yard, where the horses were ready to go out, tied to the hitching post.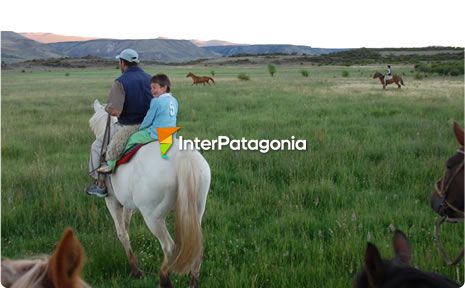 Towards la Horqueta

We crossed the bridge over Poi Pucón Creek and got deep into some pastures on the path leading to Ayoso Hill, "where one of the best views of all Aluminé may be caught", Martín promised.
After wading a small water course, we came across some cattle pasturing quietly. We followed the trail and, after crossing several gates, we went up some slopes that opened up in the valley.
The sun was setting and as we gained height, the panoramic view became more and more wonderful. As we were about to reach the top of the hill, the tapestry made up by the houses, the winding river and the green of the valley stood out as a result of the reddish and golden shades of dusk. It was a good moment to come to a halt and get off the horses. Martín produced the mate set and some homemade tortas fritas from his saddle bags at once and we shared all this in the quiet countryside.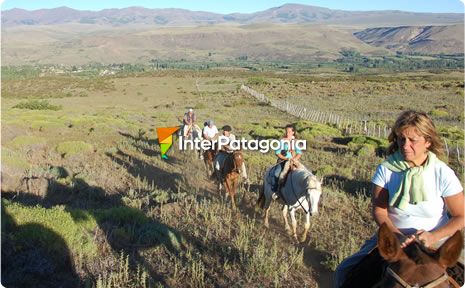 In the distance, the ridge of Mount La Horqueta hid the last sun beams and the wind began to blow almost immediately.
Quite leisurely, we started our way back after having toured around the picturesque surroundings of Aluminé.
| | | |
| --- | --- | --- |
| | There are other longer tours, like the one heading for Ñorquinco (2 days' camping). | |