| | |
| --- | --- |
| Estimated reading time: 2 min. | Mónica Pons Santiago Gaudio |
A short journey along internal paths in the Pehuenia Circuit area unveils the secrets of the local woods, valleys and lakes.
The lakes known as Laguna de los Giles and Lago Pulmarí may be accessed from Aluminé along secondary routes. Once at these locations, visitors may enjoy varied mountain and fishing activities while immersed in a natural environment.

We drove northwards to find new Patagonian nooks. For a while, we bordered the Pulmarí River and finally reached Laguna de los Giles, a small lake with a special charm.

Even if motorboats are not allowed on this water body, it is highly appreciated by fly-casters for the good specimens that may be caught in it. Two anglers were moving slowly from one shore to the other on their float tubes, holding their rods and making no sound. On the other bank, we observed an organized camping site called El Fátima.

Some birds nesting there made it evident that they were not happy about our presence. We settled down in an area where we would not disturb either the birds or the anglers.

We zigzagged towards the crystal-clear waters of Lake Pulmarí amidst monkey-puzzle trees and cypresses. Some huge crags emerged in the middle area of the lake. Wild ducks and upland geese moved towards the rocky islets crowned by monkey-puzzle trees.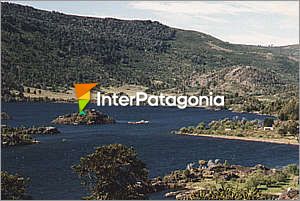 Both lakes feature incredible beauty and turn out to be appropriate for fishing and hiking in the surroundings.

For us, this outing with the family let us see a little bit more of extensive Patagonia and add new photos and memories to our travel agenda. We just observed the surroundings and that is another very appropriate "sport" to enjoy during the vacations taking advantage of the natural light on long summer days.
| | | |
| --- | --- | --- |
| | Leave Aluminé heading north along Provincial Route 23. After 19 kilometers, turn into Provincial Route 11 towards the left, up to the mountain range following a consolidated path that is part of the Pehuenia Circuit. | |