| | |
| --- | --- |
| Estimated reading time: 2 min. | Mónica Pons Palmiro Bedeschi / Pablo Etchevers |
This is a must in the city. It displays new facilities, a long wharf and the constant movement of goods and ships.
It is not necessary to get too far away from the center of Comodoro Rivadavia in order to access the local port. Its extensive wharf invites everyone to go for a walk into sea territory to catch a different perspective of the city.

On a windless sunny morning, we headed for the dock area. We got past the oil terminal where this fluid is loaded and unloaded at a special wharf. The stunning tanks made us imagine how many tons could be stored there and also the way in which they must have been used during the old oil days.

We went towards the mooring area and amidst the hustle and bustle, we got to see all the corners of this dock. To our left, the fishing and overseas platforms. The former is accompanied by several buildings where deep-sea fishing is stored, especially prawn and spider crab. These are caught in the area and highly coveted by the national and international markets.

The overseas docks were located in an area sheltered from the wind and the roughness of the sea. This is quite a big space with modern defenses and nine meters of depth which welcomes large vessels. In the past, anchoring ships was a difficult task and could not be carried out at any time of the year. It was not until 1996 that this port was inaugurated. Different mooring areas and facilities have been installed. It was built as a headquarters on the Atlantic shore for the southern bioceanic passage and to be incorporated to the local tourist and sport activities.

Later on, we moved onto the long pier that retains the agitated sea waters. The wind and the waves were very strong at this point. When we reached the end of the pier, our faces were quite cold. The gulls flying over the fishing boats in search of food hovered and squawked a few meters above our heads.

A small South American sea lion colony was resting lazily within an area where they usually sunbathe.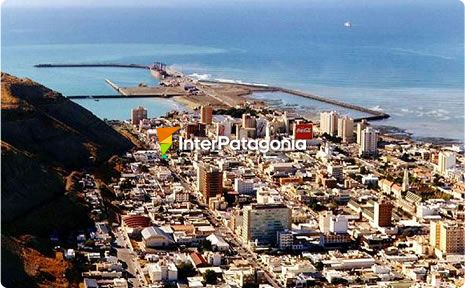 This tour around the port finally came to an end. After getting past the square known as Jardín del Puerto, we walked on along the ocean drive. The tasty aroma coming from the restaurants and cantinas tempted us to try the sea specialties.

We made contact with the city once again and could observe the port at night. It was as lit and luring as during the day.
| | | |
| --- | --- | --- |
| | National Routes 4 and 26 reach the access to the port and connect it to the rest of the roads across Patagonia, the mountain range and Buenos Aires. | |

Given the constant activities carried out at the port, careful attention should be paid to the sign posts and the port authorities.
Tour duration: 2 hours.