The Azul River and its surroundings is a destination shared by El Bolsón and Lago Puelo. Both localities are closely linked by the river and mountain activities. Lake Puelo at the foot of the majestic Currumahuida hill and the rivers that flow into this mirror of water make up a friendly circuit for horseback riding.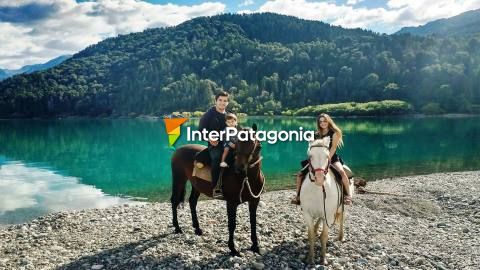 Wading through the Blue River
The Blue River is revealed as a contemplative excursion, underlining the scenarios in full contact with nature, hiking and horseback riding. The Valdivian jungle is introduced into the Andean-Patagonian forests, conceiving a singular and unique flora, with specimens of hazelnut, tique, lingue and ulmo. These Valdivian characters, humidity and the particular microclimate given by the low elevation above sea level also favor the reproduction of ferns and lycophytes that link their vascular chains with Andean vegetation. In the landscape stand out the fluvial terraces of the Azul River and the alluvial fords that are formed at the mouth of the streams.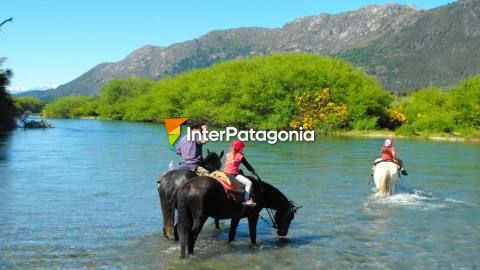 Cabalgatas Lago Puelo is a family business, located on Route 16 and Callejón de Graziano. They offer varied excursions to discover the secrets of Lago Puelo National Park, crossing trails, forests and backwaters. The easiest walk is an hour, bordering the Blue River to the mouth of the lake. The Viewpoint of the Motoco is the destination of the second option, with views of the Tres Picos hill and the entire valley. Pampa de Fernández is a more extensive cavalcade, it reaches the viewpoint of the Motoco and continues to an old town, crossing centennial forests of coihues.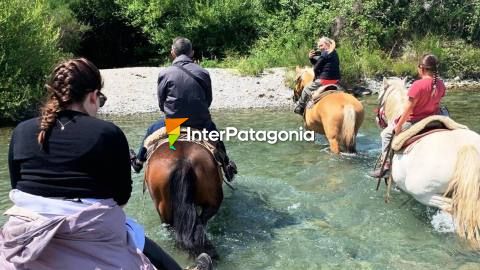 The Currumahuida viewpoint is worth one more effort, climbing a path that connects this hill with the rural post Maninga. From a nearby viewpoint you can appreciate the entire valley of the Azul River and the arm of the lake that carries the waters to the border with Chile. Finally, Las Lágrimas Creek is the longest horseback ride, with lunch included. The guides lead the group along an old road that the ancient settlers used to connect with the Chilean valleys. This trip is immersed through the nooks and crannies of the Valdivian jungle to the Border Post of the Gendarmerie.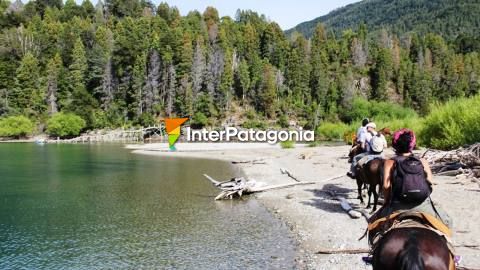 Cabalgatas Lago Puelo is a way to enjoy nature and enter the most incredible landscapes of the national park, in addition, yapa, has excellent score in the networks.