Going around its rooms, visitors may observe elements used by cultures that came before ours. These items have been studied with patience and effort.
San Antonio Este is a small district where the main commercial activity revolves around its deep water port. It is surprising to find Constantino Vicci's private museum immersed in these surroundings and devoted to showing objects of historical, archeological and paleontological value. Mr. Vicci himself led us around the well-conditioned rooms, where the pieces may be clearly appreciated. It was interesting to learn about his outings in the countryside, accompanied by his son-in-law, in search of arrow points,
chaquiras
(bead necklaces) and other native testimonies. We observed the various panels and admired a collection of animal and plant fossils, including turritella, shark teeth, monkey puzzle tree, pine nuts, figs and pampas grass. We could also see the remains of weapons, bullets and tools used by the soldiers at the forts raised during the Desert Campaign led by Julio A. Roca. A curious detail was the exhibition of a couple of human vertebra believed to have belonged to soldiers who were reached by native arrows. This is the hard assertive proof of past disputes between the different cultures.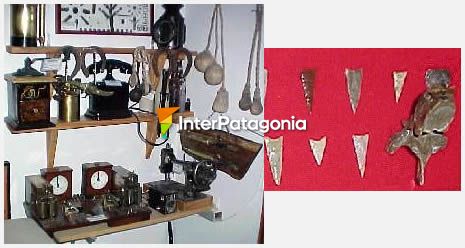 At the end of the tour, we caught a glimpse of the labor and daily life items donated by old settlers of this region. They are the faithful reflection of the early days of the local colonization period during the previous century. We left Mr. Constantino after thanking him for the visit and promised to spread the word about the museum and its valuable relics.