| | |
| --- | --- |
| Estimated reading time: 1 min. | Mónica Pons Jorge González |
Gulf San Matías shelters this town and amazes visitors with its extensive sea littoral where they may walk, sunbathe or fish.
San Antonio Este is part of the District of San Antonio Oeste and owes its importance to its overseas port. Besides, it also features beaches highly appreciated by their amplitude and their white sands.

We traveled 70 kilometers from Las Grutas to the port as we intended to see the big vessels moored there. The village is small and has few steady denizens who work at the port.

Even if tourists are not allowed into the working areas, we were astonished to see the large cranes loading the goods that would be shipped to the rest of the world from a distance. In general, these exports include products from Río Negro and the fruit grown in the Alto Valle in particular.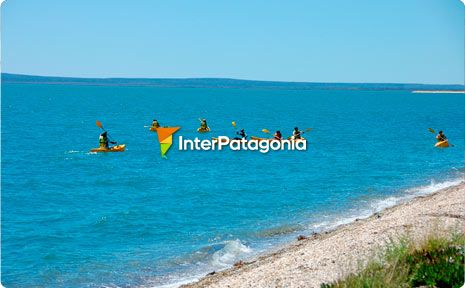 The port lies on a peninsula that ends at Punta Perdices to the North and in Punta Villarino to the South. As we toured the former, we came to Caleta Falsa, where fishing may be exercised on the shore or on board a boat. SCUBA diving is also popular at this location. The sea water is warm, like all throughout Gulf San Matías.

Punta Villarino boasts a picturesque swim hole with plenty of clams and shells. Camping is allowed within a quiet spot. It is visited by anglers who take advantage of silverside catch from the shore in the right season.

Back in the village, we found a small private museum owned by Mr. Constantino Vicci, who has collected historical and paleontological elements in the region for the last 30 years. It is located next to a market called Mirador and it is open to visitors.
Known as the white eastern beaches, they offer quietness and a wide array of sea shells under our feet as we walk around that untouched natural scene.
| | | |
| --- | --- | --- |
| | The roundabout where Routes 3, 2 and 251 converge lies North of Las Grutas. Take National Route 3 towards the east up to the following roundabout. Then turn south towards San Antonio Este getting past Baliza San Matías. Travel 70 kilometers and check about fuel supply before departure. | |