Diving into the depths of Lake Correntoso through scuba diving opens the doors to a world of natural wonders. Each dive invites us to explore the secrets that lie beneath its surface, while we immerse ourselves in an environment of astonishing beauty. Diving in mountain lakes this one has unique particularities that make it special and captivating.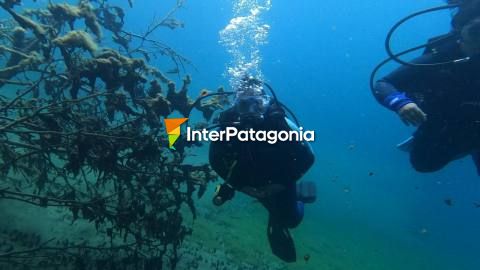 Enchanted forest
On the Seven Lakes Route, you will find Lake Correntoso, a true treasure of nature. This lake, the largest of all the water mirrors along the route, unfolds its magic among the lush Andean-Patagonian forest.
Its beauty proposes an unmissable destination for nature lovers, travel and diving enthusiasts. The connection of Lake Correntoso with Lake Nahuel Huapi through the shortest river in the world adds a touch of mystery and fascination to this unique place in Patagonia. The union of these two bodies of water creates a natural spectacle, where energy and life flow in perfect harmony.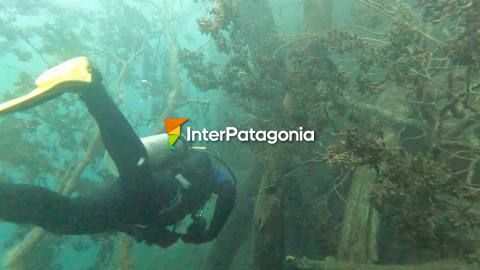 After approximately 15 minutes of navigation, we arrive at an incomparable place: the Enchanted Forest. From the surface, white trunks faded by the sun can be glimpsed, submerged in an environment of incredible beauty. We prepare to dock in one of the bays, where we equip ourselves and dive into the waters of Lake Correntoso, the warmest lake in the entire region. There, the enchanted forest awaits us, where the dive will take us from the surface to reach depths of 15 to 20 meters.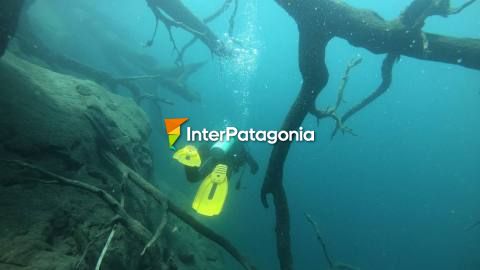 Una de las características distintivas del buceo en lagos de montaña es la gran visibilidad que se experimenta. Las aguas nos permiten disfrutar de la claridad y la nitidez de cada detalle del fascinante paisaje acuático. Los rayos de sol se filtran a través de las aguas, creando juegos de luces y sombras que realzan la belleza de los fondos lacustres.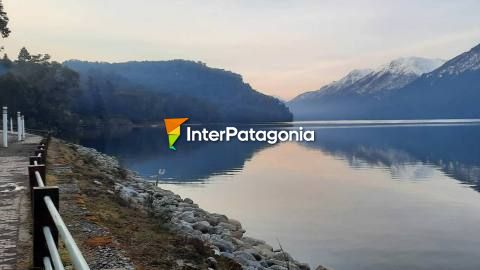 The flora and fauna that inhabit the lakes also provide an unparalleled experience. When diving in Lake Correntoso, we are surrounded by a lush green environment, which sometimes turns white with the reflection of the snow that covers the surrounding mountains.
Diving trips are available every day. In Villa La Angostura, Ardilla Buceo, a diving school and operator adhered to the Argentine Federation of Underwater Activities (FAAS), the Professional Association of Diving Instructors (PADI), Scuba Schools International (SSI), offers its services throughout the year, with affordable rates and exceptional attention. Whether we are doing a diving baptismwe are certified divers, Ardilla Buceo will provide us with all the necessary equipment for the experience.