| | |
| --- | --- |
| Estimated reading time: 2 min. | Mónica Pons Jorge González |
In winter, an excellent way to go deep into nature is on a snow sled across a profoundly white silence.
The downtown of Caviahue is small and a thorough visit may be easily made on foot in a short time. While taking one of our walks, we heard some dogs barking and went straight towards them: we found a Siberian Husky kennel, a typical breed of this region, and happiness reigned among them.

Once Javier arrived, he cleared up the subject: they were being prepared to start a dogsled excursion with a group of tourists to the cascade of the Agrio River. Dogs sensed the trip preparations and they felt happy to go for a ride.

We saw how they prepared three sleds with a team of seven dogs each. Firstly, Javier slowly arranged the harnesses of each sled and, lastly, he picked up the "doggies". We saw them glad and excited for their soon departure.

Josefina explained to us that "this is the typical behavior of dogs born here. They are trained to make a cross-country trip through snow and they like going for a ride better than staying at home". We agreed to make a tour on the following day and set off from the same spot.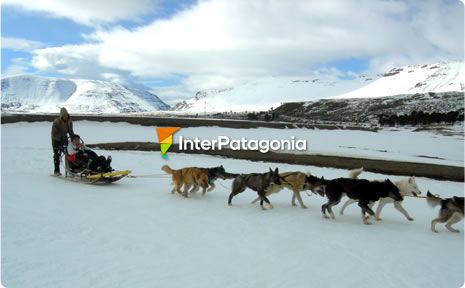 The Day Finally Came

The usual preparations were carried out the following morning, but this time it was our turn to seat almost at ground level to enjoy this journey together with another group of tourists. The dogs were introduced to us by their names: we greeted Chopin, Zen, Trixie and Kronic and some of them wagged their tails in response while others completely ignored us. They were so excited.

The basalt cascade over the Agrio River was our destination. Javier and his staff organized several types of excursions depending on the time availability and snow quality.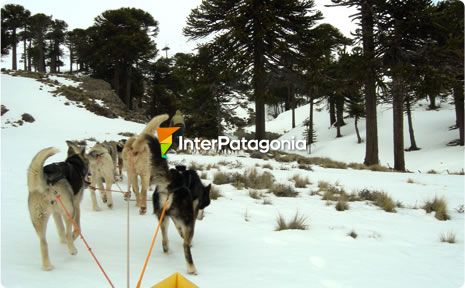 This was our first sled ride. This sled was made of wood, with some cushions that make the trip more comfortable and a cover against the snow splashed by sled skidding and the dogs' pads hitting the snow. The musher drives the sled stood on its rear and on his right there is an anchor-shaped brake to stop it.

Each sled is pulled by a team of seven dogs. The two strongest dogs, those in charge of the hardest work, are the last of the row nearest the sled. The lead dog, trained for such purposes, is the dog which steers the rest of the team.

Although not all of these dogs are Siberian Huskies, they are certainly sled dogs. Dogs run hard the first hundreds meters and when a halt is made by the guide, they roll around, bury their muzzles in the snow and pee every second. They seem to be happy and we were assured that they do not suffer from their task, but feel the same adrenaline as human beings. They look forward to this moment as much as we do.

Monosyllables

The commands are sounds that only dogs understand. Obedient, they recognize the trails and know when they have to stop. Sometimes, all you hear is the soft sound of the runners gliding across the snow.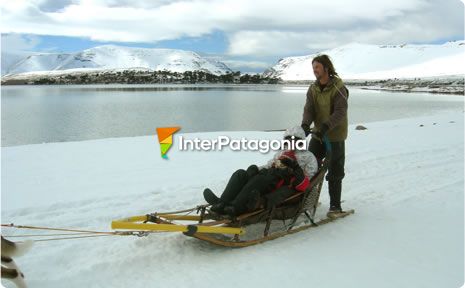 We made some stops to chat about this experience and to learn the name of the cascades and the native species and to take some pictures as well. We were surprised by this beautiful excursion, since many corners can only be visited in winter by sleds.

Monkey-puzzle tree forests, untouched snow, cascade sounds and the rainbow effect created by the waterfall are some of the beauties of this tour. Eventually, a ride along the lakeshore on the banks of town gives an extra touch to our outing. It was one hour and a half of pleasure.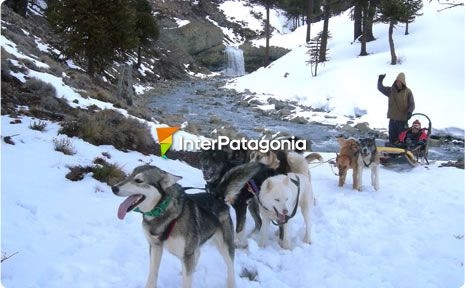 Javier and Josefina Álvarez, a young couple, began breeding Siberian Huskies ten years ago and later ran dog sled tours. Besides our trip, they organize some overnight expeditions, depending on the visitors' proposal.

Apart from this incredible activity, this couple loves nature and lives accordingly. Some mates inside the cottage put an end to a lovely afternoon and we returned to our hotel with the idea that we had enjoyed a unique tour in a unique place. A trip hard to forget.

Family tour: not suitable for children under 4 years old.
Warm clothing and footwear.
Make reservations in advance

La Huella
(8349) Caviahue - Neuquén - Argentina
Tel: +54 2948 49-5116 Cel: (02942) 15-402035