Where There Was Fire, Art Emerged
On one of the Mount Piltriquitrón slopes, a few kilometers from El Bolsón downtown, we visited an outdoor art gallery. A fire in the forest originated this particular resource.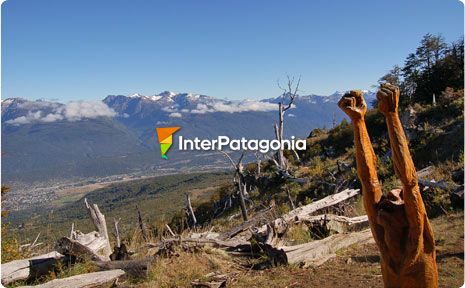 A burned down forest brought about this artistic exhibition of carved woods, unique in the world.
The Carved Forest is situated a few kilometers from
the city
and once we got inside it, we gazed in awe at those huge trees apparently dead. Our first impression gradually changed as soon as we plunged into the woods. On one of the slopes of Mount Piltriquitron, 1,500 meters MSL, this forest was actually brought to life again.
After an idea promoted by a group of local artisans, these carvers created 31 sculptures giving life to
lenga
woods that survived from the devastating fire in 1982. As they felt deep inside the necessity to help and make these pieces of wood remain alive, they organized a national encounter of wood carving sculptors in this site to recover the brave spirit of the earth.
Nowadays, the Carved Forest is a unique cultural event and one of the most visited places by those who stay in the "Parallel 42 Andean Shire"
The Beating Heart of the Mountain
We reached the area after a long walk, and just as we started to go through the paths, we perceived that this visit had been worthwhile. We were delighted by the works made by artisans on those weird shapes resulting from those trees which seemed to be dead.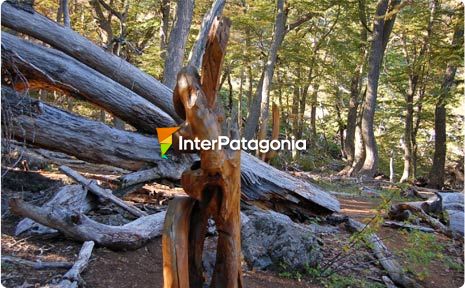 We got closer to a woodwork piece made of a
lenga
trunk named "Ypuche" by Jorge Calderón. Looking kind but brave, it symbolizes the guardian spirit of the forest.
It was at the beginning of the tour, at a house called
Casa Rústica
, where we learned more about this undertaking. We were provided with information, brochures and we talked to residents who gave us more details about the importance of this art works exhibition.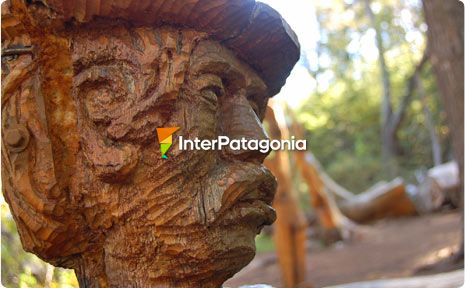 During our walk, we stopped for a while to enjoy the panoramic view around us: the New Valley, the snow-capped summits of the mountain range that separate Argentina from Chile and the peculiar deep color of Lake Puelo.
At this precise moment, we grasped the magical spirit of the place. It was possible to combine art, the culture of mother earth, the landscape and the vast nature. From nothingness and a cruel fact like a fire, life was able to emerge again.
After reflecting upon this experience, we noticed that man sometimes is able to be touched by certain circumstances and these positive feelings lead to develop invaluable creative arts spaces.