This is one of the most interesting interpretation centers in Patagonia. It features a tour around 14,000 years of human and environmental history. Visitors just need to let themselves be carried away.
A piece of news for those who have already visited this site, El Calafate Historical Interpretation Center has been fully renovated and added four more rooms. In addition to starting its historical and environmental tour 100 million years ago, it has incorporated mega mammals and dinosaur skeletons unique in the area.

Open since October 1, 2003, it is the result of the research, labor and development carried out by History professor Luis Calleja in combination with Martín Rivas and the assistance of anthropologist Alicia González and a team of archeologists specialized in Patagonia, who revised the entire show.

The educational tour has been strategically thought to introduce visitors into the history of southern Patagonia ever since its very formation.

Through the timelines presented on panels both in Spanish and English, posters with drawings and photographs, enlarged pictures, object, tools and replicas, as well as sound accounts that complete the itinerary, we crossed fourteen thousand years of human and environmental history.

The glacier processes and ecological transformations that took place during the Pleistocene, the mega fauna and cave paintings faithfully reflect pre-historic Patagonia. The origin and consolidation of the Tehuelche culture and the first encounters with the colonizers, the zenith of sheep husbandry and the large estancias, the labor conflict and Patagonian strikes along with their tragic outcomes led us to the very origins of the City of El Calafate.

Founded on December 7, 1927 by a decree passed by the national government which appointed five hundred hectares to the south of the Santa Cruz River, on Lake Argentino, its name responds to the existence of a stout calafate near the creek that crosses the town. This shrub used to act as a post for travelers who were transporting wool from the estancias.

The first general store –built by Armando Guillón- was opened very close to this spot. In 1913, it was acquired by some immigrants from La Coruña: José Pantín's family. Not only did they exploit the general store but they also opened a lodging that quickly became the mandatory stop on the mountain range road.

Cecilio Freile was Pantín's brother-in-law. His family had come along with them and in 1915 they were establishing another lodging six leagues away, on the banks of the Mitre River. And so did Lorenzo Toso with his estancia La Argentina on the opposite lake shore, as well as the Julia and Sánchez family with their own lodge, to name a few.



The uproar originated by the revolutionary strike which started in 1921 and lasted until 1922 forced the national government to lay out an urbanization project of the Mountain Range areas, taking as a reference the area of El Calafate.

In 1946, the measurement of the town was approved and the Tourist and National Parks General Administration was authorized to build Los Glaciares National Park Superintendent's Office.

That year in November, the government of Santa Cruz created the Lago Argentino Neighbors Committee in response to the denizens' request. Nevertheless, the short number of steady residents caused the transformation of El Calafate into a municipality to be delayed until 1973; the territory was not transformed into communal land until July, 1978. It was during the democratic administration of 1983 that El Calafate had its first elected mayor: Mr. Salvador Lara.

The Interpretation Center, where mate tasting sessions generally take place, also offers a cozy sitting-room and over a hundred text volumes about Patagonia and photo albums for all those who still feel like learning more about the subject.

Read complete Outing... Pablo Etchevers / Jorge González

See more points of interest in El Calafate
Useful Data
Timetables: from 10am to 8pm.
Recommendations: The Center also has a small but interesting library, access for handicapped people and a snack bar. Try to make yourself some time for a cup of coffee or a chat with Professor Calleja.
Contact: Centro de Interpretación Histórica
Av. Brown y G. Bonmelli (9405) El Calafate, Santa Cruz, Argentina Tel: +54 2902-492799
E-mail
You may be interested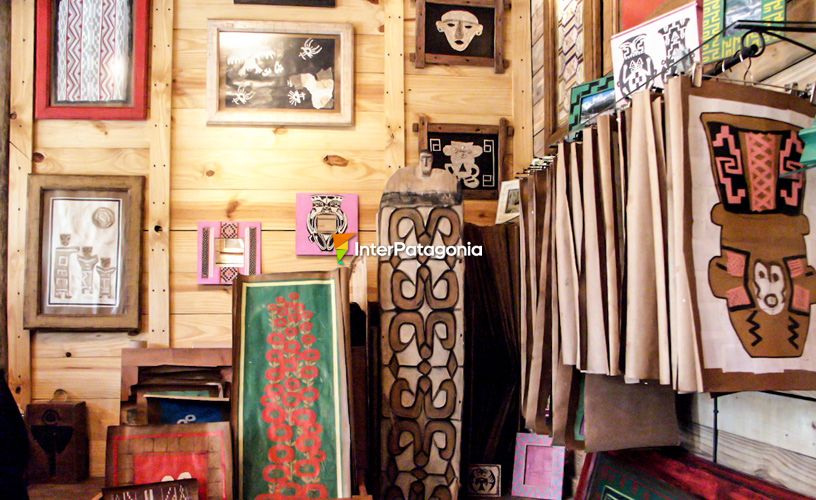 Shopping in El Calafate
Before shopping at El Calafate, tourists should know there are many products that are not truly local. Here we suggest some sites to get authentic souvenirs from El Calafate.