Hidden canyon: ancient secrets
We sailed across large Lake Ramos Mexía towards red-colored clay cliffs showing their edges and bays, part of the Valley of Dinosaurs.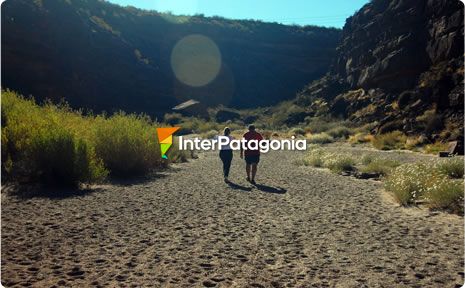 We explored an unusual combination of overlying layers of sandstone and clay formations created over millions of years ago, which make up the walls of a natural storm drainage and contain trace fossils.
Even though we were prepared for a few surprises in
the village
, the afternoon motor-boating tour across the lake to
Cañadón Escondido
(the Hidden Ravine) seemed to be particularly special.
While we sailed south, we discovered bays and high walls on the coast. It was windy, but we found calm waters in sheltered areas. We could also see some bird nests or simple transient homes of migratory birds inside the hollows of such formations.
Our guide headed for a rough rock formation shape, which looked like a funnel from a distance. As we arrived at the bay, huge tree branches under the crystal clear waters gently touched the bottom of the boat. "These branches must have been standing some time ago", said one of the passengers wisely.
When the motorboat landed its belly on the beach, every passenger got off and started the expected two-and-a-half-kilometer-walk along this fissure in the Earth's surface, known as the "Hidden Ravine".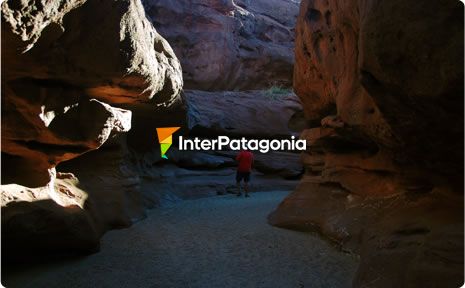 We listened to our guide, Sergio Mangin: "We are facing a distinctive rocky formation. Gazing at those layers and separated colors, we could imagine what the life was like during geological ages". We opened our mind while we were listening to our guide's interesting explanation.
While we walked inside, we felt we were on a window shopping trip, since its side walls appeared to be the usual store windows found in a shopping mall. As the soil was made of loose sand, we had to make a greater effort to move forward and, in some stages, we had to climb up rocks as if they were a staircase.
If we looked backwards, the hues of the lake changed, but, surprisingly, if we looked forward, the red hues of the rocks remained intact. We learned that the rock formations known as
candelero
(candlestick) and
huincul
were created over 100 million of years ago, which made us shiver with excitement.
"From the ground, the walls are estimated to be 80 meters high", said our guide, who also showed us a trace fossil on the edge of the roof, which was supposed to be the impression of a dinosaur bone.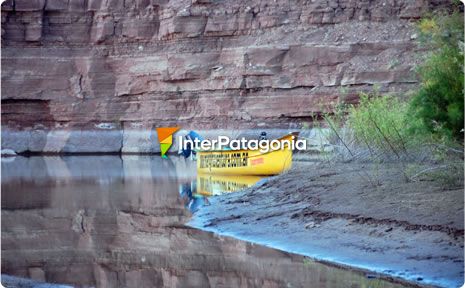 During our visit to the Paleontology Museum, we were told that experts may determine the age of dinosaurs based on the age of the Earth mass of the region. We were stepping on the rocks which had sheltered fossils of creatures extinct today.
Suddenly, we could see some miniature frogs, which got out to sunbathe and hopped fearfully when they noticed our presence, and several small harmless snakes, which got nervous when they heard our unfamiliar voices.
Back from the Past
On our way back, we approached the shores of the lake and the sunset delighted our eyes with its bright golden colors. Just at that time, we were aware of having attended an "opencast" class, which will remain in our minds for a long time.
Mónica Pons
Level of Difficulty: low
A guided tour is recommended, since accurate and detailed information of the area is essential for this kind of tours.
Visitors may have access by lake or land.