Rock Climbing at La Palestra
Esquel also offers a great adventure sport experience. Among others, just 5 kilometers away from downtown it is possible to enjoy an amazing rock climbing course.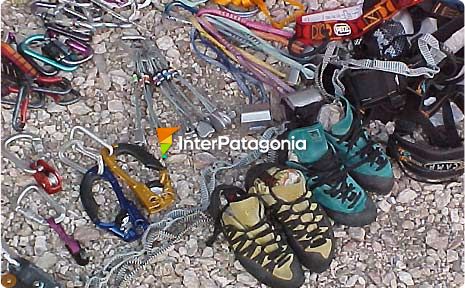 A natural 30-meter high wall is the perfect site to develop climbing techniques either for climbers coming from the city or those who come especially for training.
La Palestra
is the name given to a natural 30-meter-high rock wall used to practice sport climbing and rappelling. It is situated within the land of the Cavalry Regiment in
Esquel
.
This is a rock of glacial origin and some years ago it was used by soldiers from the Mountain and Cavalry Unit and nowadays it is used by anyone interested in sport climbing. Even though this wall is open to visitors, climbers must register at the regiment's office.
Upon our arrival, we noticed that vegetation drastically changed. The rock lies on an area known as "ecotone", where the Valdivian rainforest turns into a steppe area. That is the reason why desert needlegrass, neneos, Argentinian biddy-biddy and blackthorns are part of the wild vegetation found all around the training zone.
The challenging wall is provided with complete safety equipment (including expansion bolts in good conditions). However, in this kind of extreme sports it is advisable to climb up with a local professional instructor. Moreover, the training demands certain skill and degree of physical fitness to reach the top of the climbing wall.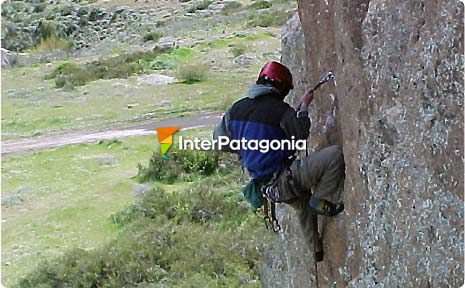 We checked out the equipment we had brought to start our way up: climbing shoes, a harness, a safety climbing helmet, locking carabiners, carabiners (bent and straight gate), 20 to 80 cm tubular slings, 1.2 meter long tubular slings, a set of friends or cams, a set of stoppers, 10.5 mm climbing rope and thin rope.
Everything was ready and the instructor explained to us that there were about ten possible routes with a rating of difficulty. Only two of them are easy, whereas all the rest go from 6ª through 7a+, which is the hardest.
We started the ascent following his instructions, with precise footwork. Once our feet were off the ground, we felt not only that we were doing well but also confident because we knew our instructor would help us in case of falling.
The harness kept us firmly attached to the rope. Little by little, we started to step in some holes of the rock which allowed us to move ahead. We kept in mind that the climbing technique was based on having three points of support. The legs have the hardest work, since their muscles are larger and more powerful than the arms muscles.
We were so exhausted that we thought we would not be able to reach the summit, but at the same time the short distance left could not make us feel discouraged. We had a short rest and thought again about how to make our effort in order to have a successful outcome: we reached the top and we felt fulfilled.
The summit enabled us to get to know the Esquel and Nahuel Pan snow-capped mountain range. The silence was only interrupted by the wind gusts, which smoothly blew and touched our skin. Happiness was our strongest feeling.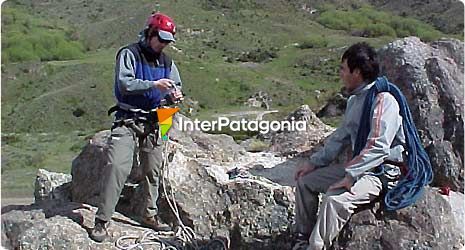 Gazing at the scenery from the top made us catch our breath and have a rest. To get down, we attached the rope to the available rings in order to form a triangle shape which best supports weight. And so rappelling started.
We tested some "descending" devices (a figure of eight knot and gri-gri) to start our descent and make the rope go slower through a closed angle and block the rope to enjoy the nature while hanging from it.
We started to lower down on the rope without taking our hands off it, well-secured and with our legs open. To gain confidence, we made short jumps and we released the rope until we landed on the ground. It was a formidable experience.
La Palestra
is great and offers the chance to be climbed up either by experts or novices. Beginners should know that on the other side of the rock there is a trail which is not so steep and also leads to the top.
Regardless of being aware of this kind of sports, we are not actually active climbers so we felt tiredness in our bodies but great pleasure to reach the top. We ended up feeling more than satisfied.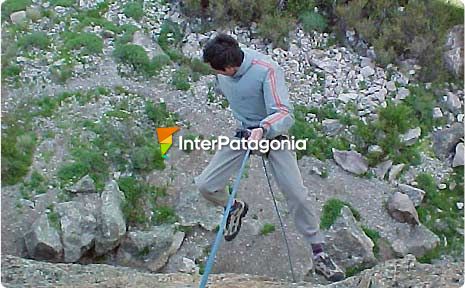 Tour Kind: Climbing. Mountaineering.
Level of Difficulty: Medium.