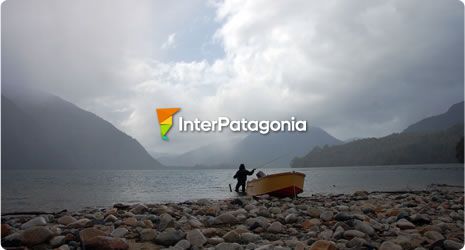 We chose to have a fishing outing at Lake Rosselot: we patiently sailed with an expert outfitter to capture a good trout or salmon specimen.
In our tour through Chilean Patagonia, we arrived at
La Junta
to spend some relaxing days and once again enjoy our hobby: fishing. We stayed at a mountain hotel on the edge of the Southern Road and we devoted our time to taking a rest. Besides, we took advantage of this time to learn more on salmon and trout recently caught. We talked with the owners of the hotel and with occasional tourists like us who had come to visit the lakes. Our excitement to arrange a fishing day and live our own experience increased; therefore, it was very easy to agree on a plan for a fishing outing. We made contact with an expert outfitter to leave very early the next day. In the morning, after a hearty and well-served breakfast, we were ready to depart. We were carrying our basic equipment and had bought a fishing license. Pedro Osés would be our expert outfitter.
Let's Visit the Lake
We left the hotel and headed towards Lake Rosselot on a truck which pulled the outboard motor boat with all the stuff for a picnic. During the journey, we were fully aware that fly-fishing is the most subtle method to capture fish and the number of fly-fishing enthusiasts increases day after day. Pedro gave us a fly rod, because we had a spinning rod. We were only 8 km from our destination. There, the Rosselot River meets the lake bearing the same name and we found a path for the boat to be placed on the water with all the stuff.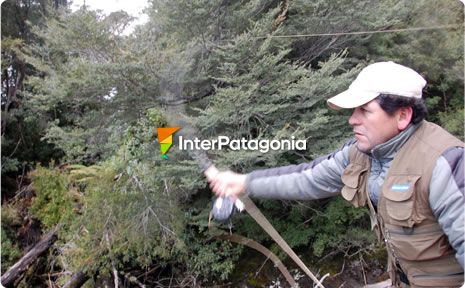 Pedro suggested that we should wear life preservers and pointed out our positions. A short and sharp sound from the pulling of the rope started the boat engine As we went under a bridge, Lake Rosselot came up. We read a map and we could find that this lake was very long and narrow. We slowly continued our way until Pedro, nicknamed "Pello", stopped the engine and invited us to get the rod ready. Taking the rod out from its package, unfolding it and choosing the appropriate flies is a real ritual not to be missed. Each angler has a particular way to carry out this ceremony in silence in order to concentrate on his movements. Lined up, divided by color or simply by size, the box containing the flies is considered almost as "a treasure chest". A Wooly Bugger fly resembling a nymph and a Chernobyl ant appeared before us and the angler tried them according to his experience. We all remained in silence, which made this moment almost perfect. Only the sound of the swinging of the waters gently beating against the motionless boat was heard. One by one the rods were unfolded and attempts were made by two people at a time.
A Real Method in Favor of Sport Fishing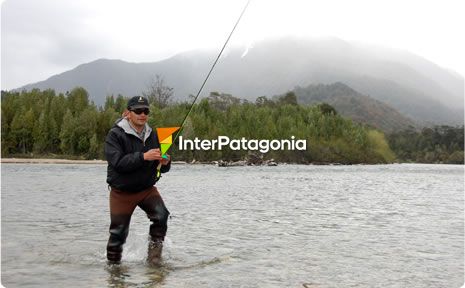 We made a mechanical movement with our arms that moved the rod in unison trying to release the line or leader once and again from the reel until it finally landed on the water surface to show the chosen fly to the probable victims. Each angler cast to their own rhythm. And so we spent all the morning: without realizing that time had passed and moving from one fishing site to another several times. Only the midday heat and some appetite made the prow aim towards the sandy beach to camp for a picnic and take a rest. Once recovered, we headed towards the exit from the Figueroa River, where there were small sandy, rocky islands and some flumes inviting us to try our luck. Another emblematic spot in this place, together with the Palena River, is the Negra Lagoon or the Gaucho Lake. We were lucky and we could catch two specimens of trout, one fario (or brown) and one rainbow trout. As we were very good sport fishermen, none of the specimens was sacrificed. With this method, fish recover their breath and flap their fins until they can swim again.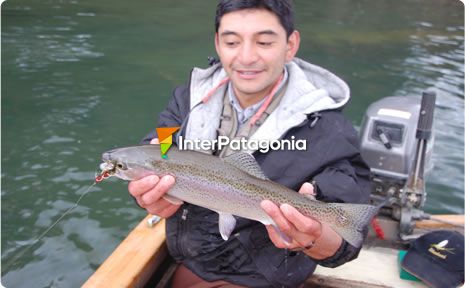 Feeling so eager to fish, we had not imagined that we could enjoy a whole day of fishing without getting at least one specimen. The joy of getting ready to fly-fish, watching the struggle of a trout and how hard it is to catch it was our reward, as well as releasing the fish back to the water for its survival. We learned how to value natural resources and we were lucky to have the opportunity to enjoy this vast water body, the Rosselot, the fishing secrets told by "Pello" and the chance to fish again before coming back from our vacations.