| | |
| --- | --- |
| Estimated reading time: 2 min. | Karina Jozami Jorge González |
An enjoyable tour to get to know the attractions of the coast, from the warm waters seaside resort to the harbor town nearby.
Las Grutas is a picturesque summer village located in a privileged nook in the San Matías Gulf. We traveled along the coast by car, from South to North. The hamlet extends along the waterfront avenue, which provides several paths to access the white sandy beaches.
During the summer, from the early morning, the beach is the selected scenery to perform different kinds of sport and leisure activities. In winter, the warm waters that bathe the coast are often visited by whales, killer whales and dolphins.

Facing Las Grutas, about 800 meters off shore, there is an underwater park resting on a ledge of rocks which is around 100 meters long. In this area, the bottom of the sea presents an exceptional structure and rich underwater flora apart from developing a fauna variety, which ranges from shark to pejerrey, ideal to practice fishing and diving.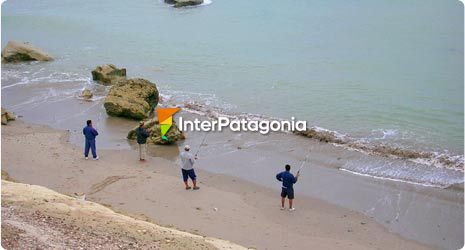 We left the avenue behind and got away from Las Grutas heading for La Rinconada spot. During the tour, it is quite common to see tortoises, maras (Patagonian hares), piches and guanacos less than 100 meters from the coast. After a 2 kilometer drive, we arrived at this rugged spot chosen by fishermen, on a narrow terrace with a path downwards leading to an ideal café to make a stop on the way.

We got back to the road and 4 kilometres ahead, we stopped to take a look at Los Álamos and see the migratory birds that use its extensive dunes as their hiding place. This zone arises a particular scientific interest because it is useful to these birds, as well as to the diverse Patagonian flora and fauna as an feeding, resting and reproducing area.
Five kilometers ahead, we turned to the East at the roundabout, heading for San Antonio Oeste.
The small city welcomed us with its quiet barges and fishing boats moored at the harbor, where boats and vessels run aground during low tide and can only set sail during the high tide hours.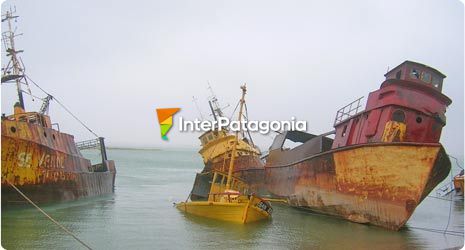 On returning from the fishing activities, the sea lions escort boats to get some fish as a reward.
Beyond harbor life, which can be appreciated in its dock and its huge storing sheds, San Antonio presents old railway houses. While walking its streets, people can breathe the history of the European colonists and immigrants who settled down here and grew along the strong trading push of the region.
Towards the South of the Peninsula, facing San Antonio Bay, we visited La Mar Grande, a wide and rugged beach where the arch formed by the beaches that join Punta Delgada with Las Grutas begins. Many birds, such as chorlos and playeros, gather in this area, where they stop for a rest in their annual migratory route.
This bay is an ideal spot for fishermen to enjoy good opportunities to catch fish at the beaches as well as from docks and cliffs.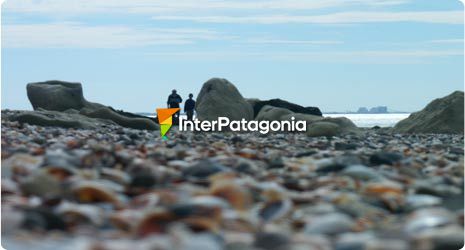 Secretaría de Turismo Las Grutas
Av. Río Negro 715 (8521) Las Grutas / San Antonio Oeste - Río Negro - Argentina
Tel: +54 2934 49-7463

Información Turística San Antonio Oeste
Moreno 111 (8521) Las Grutas / San Antonio Oeste - Río Negro - Argentina
Tel: +54 2934 42-2428












With more than 100 stalls, Las Grutas' traditional handicrafts market has 25 years of history and has been named after Victor Oscar Menjoulou, its main fosterer along with Lía Mares. Located in the pedestrian street, at the first descent, the market had to be extended with more stands towards the centre, in the remodelled civic square called "Comandante Luis Piedra Buena".
Full of colours and with a wide variety of products, every year the market welcomes many craftsmen coming from many points of the country, who exhibit and sell their handmade creations, and turn this place into one of the city's main attractions.