Ushuaia on a 4WD. A Must.
Ushuaia: hostile, wild, ideal for a ride on a comfortable 4WD around scenes where adventure becomes mingled with the experience of men in these lands. An outing suitable for all audiences.
Adventure lovers often feel hooked by the idea of visiting Tierra del Fuego, one of the most inhospitable, harsh and beautiful sites on this planet.

Jack London portrayed a magical world of wolf dogs, eternal snow, long nights, endless day and the worship of fire in his memorable books. Today, Argentina offers the chance to share the experiences narrated by this brilliant writer.

Maybe this was the reason why we were certain that our lifetime dream had become true once the trucks arrived at our hotel. The feeling of adrenaline, enthusiasm and joy was evident in our body.

After greeting the members of the group, we were ready on one of the two Toyota 4WD vehicles that would be leaving the city for only one day.
The North awaited us. We went through the Olivia River Valley towards Valle de Lobos (Valley of Wolves), where we would find the famous sled dogs that have been incorporated to the local natural scene.

Valle de Lobos is a mandatory stop in order to learn how the Alaskan Huskies are bred and trained to pull the sleds during the winter, when tourists from all over the world come along to enjoy these fascinating rides through the snowy dales and woods in Ushuaia, even during the night.

We followed Route 3, which dazzled us with unforgettable views of the mountains, lakes and rivers where beavers leave their tracks.



We drove on until we crossed the Andes Mountain Range at the highest point on the island: the famous Garibaldi Pass, where it is possible to appreciate incredible panoramic views of Lakes Escondido and Fagnano. The latter is the largest in Tierra del Fuego.

From the Garibaldi Pass viewpoint, we could observe the old road that leads to the lake and is used for tours during the warm summer days.

"That is the road we use in the summer", the guide told us as he pointed at it with his finger. "You cannot imagine the nooks hidden down there", he concluded. Many of us were already murmuring about returning to this place during the summertime, when the days lasts almost 24 hours in Ushuaia.

We made a stop to have a hot beverage to keep warm, although the adrenaline and fascination we had experienced so far made us forget about the cold temperatures.

"The Island", as the guides usually call it, features a significant array of flora. In addition, some of its birds whose chirping enchants the surroundings, can only be seen in biology books.

Water, mud, snow, wind, rain and sunshine are elements that follow one another until they give way to unpredicted sensations that cause amazement among tourists.

It was midday and we found ourselves wading some creeks and streams and feeling quite hungry. Lunch could not be postponed any more. Therefore, we resolved to start our way back to Valle de Lobos, the same place we had seen earlier that day.

An excellent picada (an assorted tray of cold cuts, cheese and other regional products) was awaiting us in the comfort of a cozy cabin, whose chimney gave evidence of what was happening inside: a delicious asado was being prepared.

A ritual? A toast was the perfect finale for our adventure, accompanied by choripan, bife de chorizo and grilled vegetables make up the perfect repertoire to end this outing.

Read complete Outing... Pablo Etchevers / Gentileza Rayen Aventura

See more points of interest in Ushuaia
Contact
Brasileiros em Ushuaia
San Martin nº 870 (9410) Ushuaia, Tierra del Fuego, Argentina
Cel: +54 2901-408801
Useful Data
Recommendations: Characteristics of the outing: good vibes, mud, wild scenes, adventure, asado.For whom?: Everyone: adventurers, families, children and adults.What to pack: Comfortable footwear, warm clothes, water.What is included: Coffee, tea, picada, asado, wine, soft drinks.Estimated duration: 8 hours (from 9am to 5pm approximately).Daily outings: Always!Season: Year round. The tour is subject to weather conditions.
You may be interested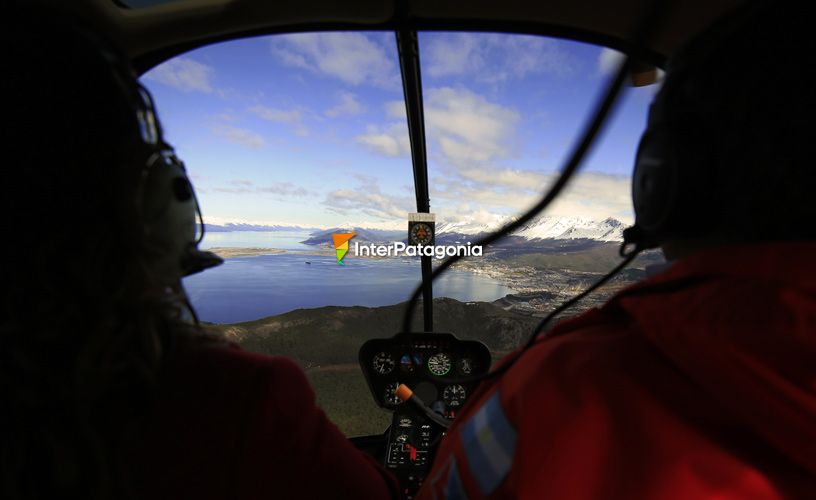 The Great Lakes from a Helicopter
Without any need to move from our seats and feeling we are floating in the air, this unusual point of view lets us get immersed in the landscape.