| | | |
| --- | --- | --- |
| Estimated reading time: 4 min. | Marcelo Sola | Marcelo Sola |
During the XIV and XV centuries, the Spanish Royal Crown ordered the building of forts and castles, silent witnesses of a past which demands an immortal destiny for the city.
The City of Valdivia, historical from the moment it was conceived, was founded on February 9, 1552. It had a great strategic significance for the Spanish Empire in those days. Its proximity to the Strait of Magellan turned it into a mandatory shelter on the route to the Peruvian Vice-royalty.
This geographical fact, apart from being a well provided site, rich in gold, wood, trade and having the largest navigable fluvial net in Chile, made it be considered as the "Southern Pearl" as time went by, thus beginning to be coveted by other world powers.
The case was such that the Consejo de Indias in Spain ordered in several opportunities from 1633 onwards, the prompt fortification of the Valdivian harbor, vulnerable spot in the defense system of America.

The decision was enforced after a raid and an ephemeral Dutch occupation in 1643. Two years later, once the lands were recovered, the Spanish crown, together with the Viceroy Marqués de Mancera, organized a navy that brought contingents and resources to Chile in order to carry out a second foundation of the City of Valdivia.
For its defense, the most important fortifications of the Headquarters of the Military District of Chile were raised. Their forts, castles and batteries formed a harmonic whole. None of the countless enemy squads that entered the Pacific Ocean attempted to destroy the defenses of Valdivia…

…Today, five hundred years later, these walls continue erect on the shores of the Pacific, and are a silent witness of a glorious past that demands an immortal destiny for Valdivia. Destiny which may be unveiled as you go along its corridors, touch its façades, and listen to the history within them, now turned into museums.

Niebla Fort

Nestled on the Santa Cruz point, it was baptized as Pura y Limpia Concepción de Monfort de Lemus, in honor to the Viceroy of Peru in those days.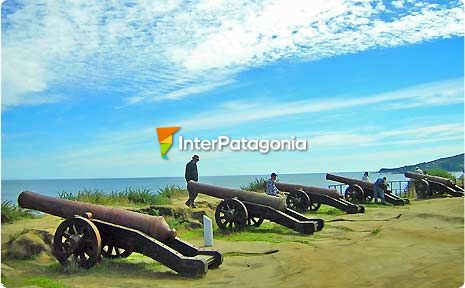 It was built between the years 1667 and 1672. Later on, in 1715, a hill was reduced in order to install a battery with capacity for 16 cannons.
When going inside the fort, cannons, furnaces, merlon walls, the chaplain's and the castellan's houses and even the grocery may be appreciated.
The material used for its construction is cancagua stone, lime and plaster, brought in Eláter bags from the center of the country. The wood was obtained from the surrounding forests, plenty of larches, cypresses and laurels.
This fort could lodge a total amount of 600 who had the best weaponry throughout all Chile.
In its interior, an exact replica of a Spanish soldier may be appreciated, as well as archeological objects and manuscripts of the time.

Patagonia Adventure Center
Los Castellanos s/n (5090000) Valdivia - XIV Región - Chile
Tel: +56 63 228-2154










"My name is Néstor, and it is an honor for me to commemorate the life that the Spanish soldiers led in the Corral Fort. Together with a group of actors, we perform a historical representation of the various facts that occurred inside these ancient walls. We command the cannons of those days to be prepared and aim at an imaginary pirate ship, or form the squad to pay tribute to our motherland flag – Spain- or make a parade before thousands of tourists who watch the show astonished. The best part of all this that I am telling you is what happens at the end of the show. Thousands of enthusiasts give us their applause; the flashes from the cameras do not stop; and it is then when we realize that all the effort and rehearsals were really worth it. Come and see us. We will be expecting you."
Néstor
Actor