| | | |
| --- | --- | --- |
| Estimated reading time: 1 min. | Marcelo Sola | Marcelo Sola |
On the banks of the Calle Calle River, it is possible to discover the plural identity forged by the city by visiting the Mauricio van de Maele Historical Anthropological Museum.
Overlooking a privileged sight of the waterfront of the Calle Calle River, and surrounded by a beautiful and neat park, the Historical Museum of Valdivia opens its doors everyday to show the biggest cultural attractions of the city.
This museum, declared National Historical Monument, is also known as the Andwandter House and presents a neoclassic design. The façade has a portico with three lowered arches, tin composite roof and walls covered in timber.
There are various rooms in the inside, where the three main ethnic groups which cooperated in the creation of the regional identity are represented.
The collections exposed revolve around the first Americans who dwelled the template forests 12,000 years ago, the early and steady Hispanic presence which determined the character of the City of Valdivia and the impact caused by the German colonists who arrived in these lands after 1850.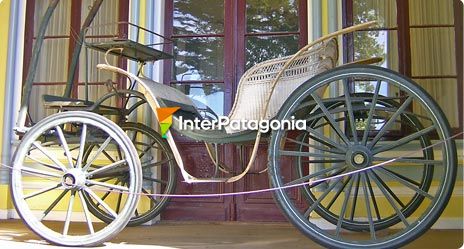 Many of these elements have been obtained thanks to the valuable contribution made by the well-known historian and anthropologist Mauricio van de Maele, who has been honored with the name of the museum.
The Hispanic-Creole settlement from the XVIII century onwards is recreated on the ground floor, where it is possible to see furniture, devices, ornaments and documents from those days.
There is evidence of the work done by Friar Camilo Henríquez, born in Valdivia in 1769, who took part in the most active groups in favor of Chilean Independence.
The South wing gives proof of the introduction of the German culture to the City of Valdivia. The housing system and the transformation experimented in the mid XIX century, as well as the contribution made by European immigrants to the development of science and culture in the country, are shown there.

On the first floor, there is an important exposition of the archeological history of the central South of Chile. From the stained-glass windows, the contact within the Indians and the Spaniards and the cultural contribution made by the mapuche-williche inhabitants is clearly noticed. Also, the precious collections of silverware, pottery, textiles and basket-making corresponding to the archeological site Pitrén (300 A.D. - 1200 A.D.) and the Valdivian Style (1400 A.D. - 1800 A.D) can be observed. This show tells the story of the potter societies from the beginning of the Christian age to the XIX century.
| | | |
| --- | --- | --- |
| | Monday to Friday, from 10am to 8pm | |
| | | |
| --- | --- | --- |
| | For a better understanding of the elements exposed at the museum, we advise that you go along its facilities in the company of a local guide. | |

Museo Histórico y Antropológixo M. Van de Maele
Los Laureles s/n - Isla Teja (5090000) Valdivia - XIV Región - Chile
Tel: +56 63 221-2872














In 1870, Karl Anwandter, well-known colonist and pioneer of the industrial and cultural development of Valdivia, built a large house where today stands the Mauricio van De Maele Historical and Anthropological Museum, for his numerous family to inhabit.
The sea typhoon that struck the city on April 26, 1881 caused considerable damage to the house, which ended up in a total transformation that modified its façade.
It was later inhabited by officers from the company Cervecerías Unidas, successor of Cervecería Anwandter.
The house was restored in 1968 following a project by architect Sergio Anwandter Böttcher, a direct descendant from the German colonist.
Finally, on October 29, 1981, it was declared national historical monument and today it is considered a real relic in Valdivia. Do not hesitate to visit it: you will be surprised.

Marcelo Sola – Reporter