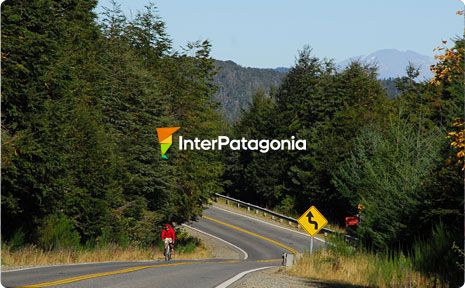 In Villa La Angostura, we had the chance to go on an intense and amusing mountain bike ride along the old road to Lake Espejo: a winding gravel and dirt path that goes up and down steep slopes.
To go on this excursion, we hired the services provided by an operator specializing in this kind of cycling excursion. At the agency, an excellent GT bike was waiting for us. This is an ideal bicycle for this kind of tours. We were also given a safety helmet and a water bottle containing cold fresh water to drink during the ride. Once everything was ready, we cycled for two blocks and took Route 231 heading north. 12 intense kilometers of steep slopes were ahead of us. It was important to find our own rhythm on the bike, since the total ride was long. It was also important to drink water every 15 minutes so as not to become dehydrated. After cycling along 1 km. on Route 231, we turned right into Cacique Antriao Street and took a descending gravel path that led to
the shore of Lake Correntoso
through the northern neighborhoods of
Villa La Angostura
.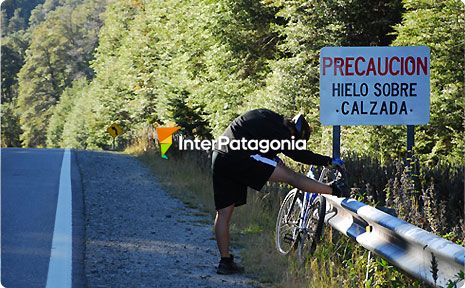 As we rode down the street, the guide taught us the correct use of the speed gear to improve our performance. In descent, we had to raise the sprocket wheels and even the plates if the climb was too steep. But if we wanted to climb, we had to do exactly the opposite. As we went past the coast on Lake Correntoso, we noticed the beautiful volcanic sandy beach where tourists and locals go swimming, rowing or even fishing. We bordered the coastline and headed towards the old wooden bridge over the Correntoso River. This is one of the shortest bridges in the world and now it is used by pedestrians. Halfway through the bridge, we obtained a wonderful view of the Correntoso and the imposing Andes in the background. After crossing the bridge the road narrowed down. We had already covered 7 kilometers. It was the beginning of the old road to Lake Espejo (whose name stands for "mirror" in Spanish). We got deep into a thick
lenga
, cypress and
raulí
forest and started a 5-km ride along an uneven terrain of sandy ground and fords as we avoided some big fallen trees and admired the wildlife around.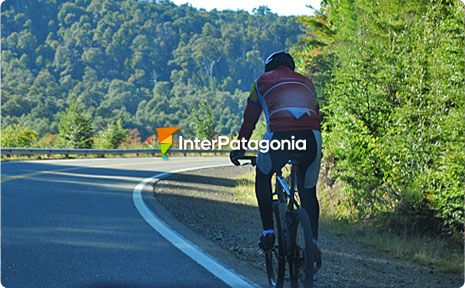 "Come on!" shouted the guide as he reminded us of the use of gears, something essential at this stage. We were getting past Las Bandurrias area, then Los Colihues Creek and some meters ahead, we crossed an old gate that accesses the northern area of Nahuel Huapi National Park. From that point onwards, we started our way down at full speed along the so-called
"picada Coletti"
(Coletti slope). After an excellent dose of speed and adrenaline, we joined Route 234, best known as
the Seven-Lake
Route. 200 meters ahead, we accessed the paved road, at the junction with Route 231, where we turned right and headed for
Cardenal Samoré International Pass
. Soon we got to the watching point over Lake Espejo, a splendid crystalline water lake of volcanic sand beaches ideal for nautical and recreational activities. From this viewpoint, we caught a magnificent view of the mountainous scenery.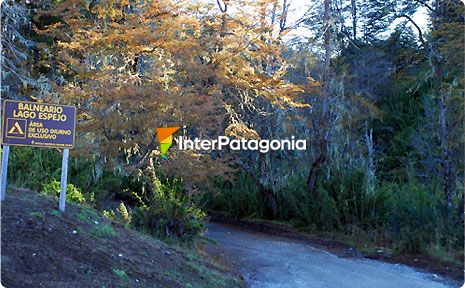 After taking a rest, drinking some water and recovering energy, we went directly back to the village, this time through route 231. The ride back is mostly in descent passing by several panoramic points like the bridge over the Correntoso River, where we could see the old Correntoso hotel dating from 1922, now completely refurbished. We rode on and got past another fantastic view of Lake Nahuel Huapi: its branch known as Last Hope and the east face of Quetrihué Peninsula. The village was only some kilometers ahead and we would soon triumphantly get there through Arrayanes Avenue.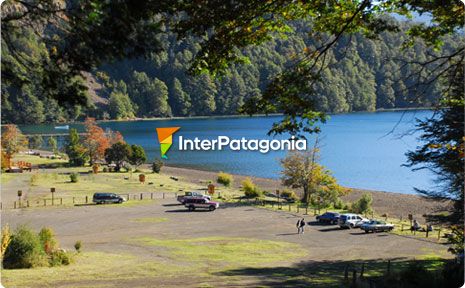 We had ridden 24 km. at an average speed of 15 km./h and a maximum speed of 55 km./h in descent during 2 and a half hours. After this intense challenge, the best thing we could do was to have a good hot water bath and elongate for 30 minutes.