| | |
| --- | --- |
| Estimated reading time: 2 min. | Marcelo Sola Ernesto Cingolani |
A very particular way to see Bariloche is by combining hiking, swimming and climbing techniques.
A very particular way to see Bariloche is by combining hiking, swimming and climbing techniques. Canyoning, also known as canyoneering, is a sport related to adventure travel. It requires skills, aptitude and endurance. During the navigation along ravines, rapids or pools, there is only one item that will help us float: our own body.

Some tourist operators offer the chance to hire a canyoning tour: an atypical, attractive and novel excursion.
The journey includes jumping from natural diving spots, hiking on rocks, rappelling down cascades, as well as crossings to deep pools in the river. Of course all these activities demand physical fitness and a great fondness for adventure and adrenaline.

In general, the companies selling this kind of adventure travel outing also rent the necessary apparel to enjoy all these activities safely: a helmet, a neoprene jacket to dive in the cold waters and a safety harness to climb.

Salto del Vasco Cascade, located on arroyo de la Virgen, is 45 meters high, ideal for all those people who would like to practice canyoning.

The instructors usually choose this spot to start the tour. They provide all the necessary technical instruction in advance, so that adventurers may enjoy this practice without any inconvenience.
The first aim is to reach the top of Salto del Vasco. At first, everyone climbs on foot. In the event that the soil features become harsh, they may use the help of ropes or other elements employed by mountaineers.

Some very amusing falls appear at the top of the cascade. This is the spot where descent begins.

Huge pools are perfectly set for adventurers to dive into the creek and enjoy a wonderful context, surrounded by lush vegetation.

The tour demands that visitors should know certain steps. When in sites with mild slopes, they need to sit on the polished rock and let themselves be carried away by the water. When in the steeper zones, they should use ropes to rappel down.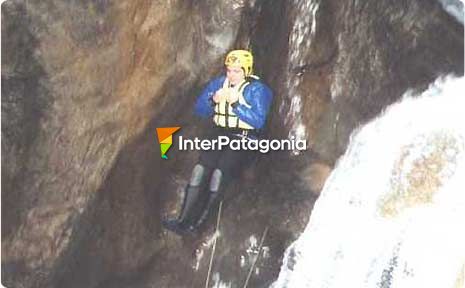 Along the way, they can observe several ancient "natural slides", carved daily by the water.

There is no doubt that this is an ideal site for adventure travel. The stream advances dragging everything down up to a site with colorful rock formations.

Suddenly, thrill and adrenaline turn up in one of the last stretches. The water moves faster towards the most exciting slide in the circuit: the perfect finale for this awesome crossing.

Canyoning can make the wish of the most adventurous come true: to be in action. At the end of the tour, everyone is ready to start a new circuit with harder natural obstacles to sort out.

Patagonia Rafting
San Martín 86 (8400) San Carlos de Bariloche - Río Negro - Argentina
Tel: +54 294 452-2438 Cel: 9 294 4558899