Rock Climbing at Piedra Parada
What about finding a 200-meter-high rock in the middle of the steppe? Undoubtedly, this is a rarity and also a chance to experience rock climbing.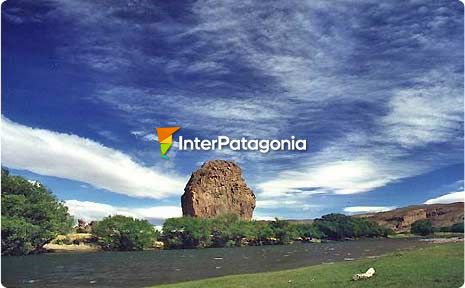 Adventure, adrenaline and a fascinating experience in the middle of the steppe awaits during the tour to famous Piedra Parada.
The natural protected area known as
Piedra Parada
(Standing Rock) lies very close to the City of
Esquel
. This is a magical site where this rarity may be contemplated and where climbers may practice their art. Of course they must have previous experience and also dare to make such an effort.
We left Esquel by car along National Route 40 first and Provincial Route 12 later. We traveled along 82 kilometers out of which 65 were a gravel road. The closest village is called Gualjaina. There is the possibility of hiring this tour at a travel agency, which would include a specialized guide and a lunch box.
This mass of rock stands on the banks of the Chubut River, in a perfect environment for hiking, as the panoramic sights are incredible and even include cave paintings. In the past, this formation was part of the walls of a volcano.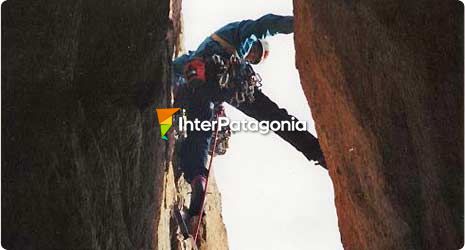 The place known as
La Buitrera
(the Vulture Colony) or
Gran Cañadón
(Grand Ravine), a great wall measuring over 6 kilometers of length and 100 meters of height, can be reached by crossing the Chubut River.
Piedra Parada
is a valuable landmark for sportsmen as it provides various degrees of climbing alternatives according to the experience each adventurer has.
There are several circuits. The first one is called
Sueño Lento
(Slow Dream) and it reaches 240 meters of height. The second one is known as Big Bang and leads to 248 meters with a higher degree of difficulty. Those who have already experienced these two circuits still have another one named
Un Largo Camino a Casa
(A Long Way Home), which demands a higher degree of technique.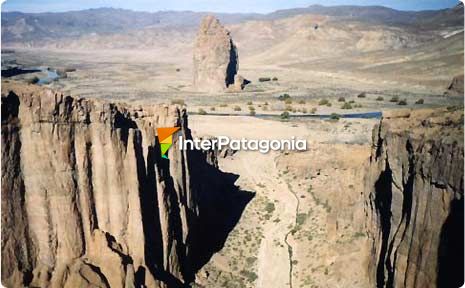 Piedra Parada
is included in the adventure travel guides used by expert mountaineers. We are far from that title; therefore, we imagined that reaching the top must be an impressive experience teeming with adrenaline.
We must point out that the entire protected natural area offers activities for inexperienced climbers. Amidst a colorful and extensive valley, mountain biking, horseback riding, hiking and angling are other activities available.
Tour Kind: Climbing and contemplative
Level of Difficulty: Medium.