| | |
| --- | --- |
| Estimated reading time: 3 min. | Pablo Etchevers Gentileza Quatro Vientos Aventura |
A matchless experience to feel the Limay River on board some kayaks in search for rapid crystal-clear waters. Ideal for the entire family.
This adventure began at a spot known as Espigones de China Muerta, 5 kilometers away from the District of Plottier, heading West along Provincial Route 22.

The entire group listened to the explanation and the tips provided by Fernando Milla, who is in charge of training the adventurers and teach them to use all the elements and to carry out the basic maneuvers and watch the safety regulations concerning this sport.

A Time to Paddle

It was time to get on the kayaks and let theory give way to practice. Before we could notice, we were paddling.

Downstream, on the first stretch of the river, we could observe the transparency of the waters and the contrast of the steppe flora and the productive valley responsible for the richness of this beautiful region. As we became familiar with the local wildlife, the group was delighted watching the birds.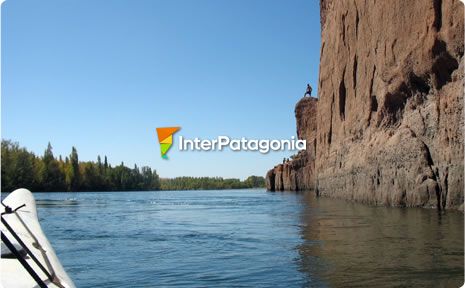 But the most impressive time came when we faced the majestic cliffs over the Limay River, the result of the wind erosion that has carved these amazing mountains for millions of years.

At this point, we made our first stop to drink some water and grab a bite. After having recovered our energy, we continued paddling downstream towards our final destination. Though we all were feeling enthusiastic, we knew we still had a long way to go and countless new things were awaiting us.


A Time to Climb

Feeling energetic once again, we started hiking towards a ravine where we could watch the Great Valley of the Limay River from the heights. The colors, the depth and the contrast of the waters and the surrounding vegetation guarantee unique photographs.

We went down the hill and were surprised by the thrilling possibility of floating downstream with the safety provided by the life jackets as we reached the riverbank. A spectacular adventure.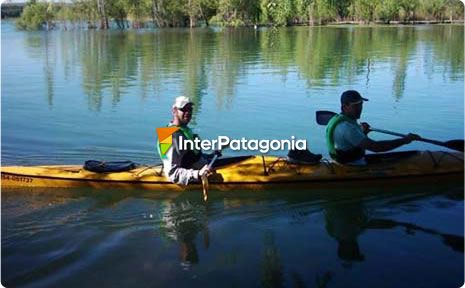 After this experience combining adrenaline and freshness, we went on the kayaks again and continued going down the river getting past the Plottier bathing resort, the area known as La Herradura (the horseshoe) and then we sailed under the bridge called Las Perlas (the Pearls).

Once there and already feeling at ease with the paddles and new anecdotes to tell, we took our last rest to see how the group was feeling and to share some of the experiences of that day.

The last part of the navigation led us to our final destination: the City of Neuquén. Thus, we paddled across a total distance of 24 kilometers in about 5 extraordinary hours.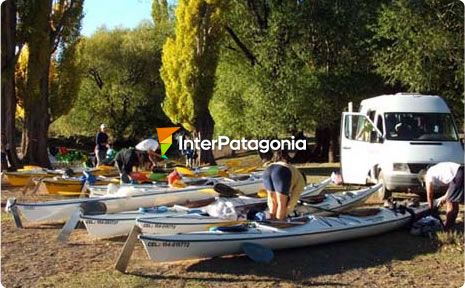 | | | |
| --- | --- | --- |
| | The Limay River is one of the most beautiful rivers in Patagonia. The possibility of traveling along it by kayak is quite unusual in other rivers in the world. Therefore, this tour is requested by many foreign tourists who are aware that this is a unique experience which is gaining more and more fans among the locals. A matchless experience available for anyone who may feel like learning to paddle and let themselves be carried away by the flowing waters of this beautiful and fascinating river. | |

Quatro Vientos Aventura
Av. Argentina 16 Piso 8 A (8300) Neuquén - Neuquén - Argentina
Cel: +54 9 299 4061737 / 4563677