| | |
| --- | --- |
| Estimated reading time: 1 min. | Karina Jozami Mario Ptasik |
Renovated and modern, the new restaurants in Neuquén venture into a versatile and refined gastronomy.
Breaking with the old concepts of traditional cuisine, gourmet places in Neuquén invite customers to experience their renovated gastronomy. These restaurants rescue authentic Patagonian flavors and combine them with good versions of modern international cuisine to create menus that grant distinction to the tables of the Patagonian portal.

One only needs to visit some strategical nooks to find the fresh air breathed in the great valley menus. Here we present three restaurants, one from a brand-new local winery, all of them with good esthetic and culinary taste.

The Good Vine

A perfect finale for a tour around the vineyards owned by the Schroeders is the Saurus Restaurant, a place that expresses the spirit of this winery in style. With a splendid view of the vines and in a relaxing atmosphere, Saurus offers a simple and varied cuisine with original details provided by its wines.
We tasted some of its gastronomical creations, such as the Saurus Chardonnay vegetable soup and croutons and, as a main course, the combination of rabbit and shrimp with sauce accompanied by sugar-coated chives and quinoa risotto.

Customized assistance and high service quality turn this place into an ideal choice to organize business meetings or social events.

From the South

Behind "Del Sur" Restaurant lies the traditional Amúcan Hotel, which has been working in the region for over 30 years. Cosy environments and excellent assistance complete a gastronomical proposal that pays tribute both to southern specialties and homemade pasta.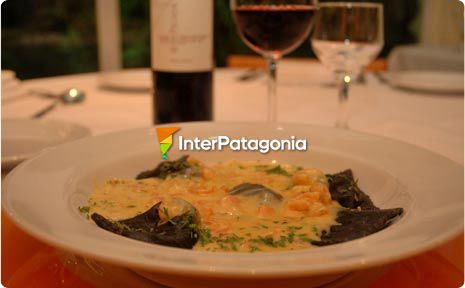 After a regional smoked products board, we were delighted by the moquehue trout, which features this traditional Patagonian fish over a cushion made of mushrooms and steamed vegetables. We also accepted the chef's recommendation and tasted the black ravioli, stuffed with salmon accompanied by prawn sauce.

In addition to these dishes, meat occupies a special section in the menu, which ends with classical desserts such as tiramisu and chocolate mousse.
Wines from NQN winery, along with other prestigious national wineries, put their stamp on the tempting invitation made by Del Sur restaurant, which expects visitors all year round.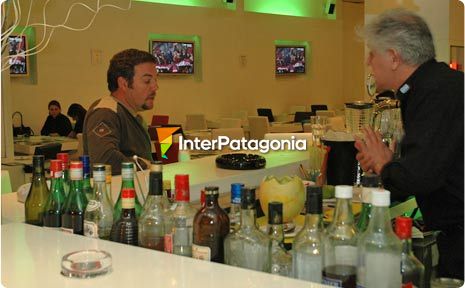 Good Point

At Punto Blanco, chef Enrique Basualdo contributes with all the experience gained during over 20 years both in the country and abroad: a simple menu with delicious refinement touches where varied and colorful versions of international cuisine show off. At first, we tasted the tagliatta, an attractive dish made of grilled vegetables and chicken medallions over a cushion made of arugula and Parmisan cheese. Then, we tasted exquisite barbecued ribs.

Beyond these delicacies, Punto Blanco presents table d'hôte options for lunch, as well as the chef's recommendation, which may be enjoyed both for lunch and dinner.

Saurus
San P. del Chañar - A 47 Km. de Neuquén (8300) Neuquén - Neuquén - Argentina
Cel: +54 9 299 4091754

Del Sur Restaurante
Tucumán 117 (8300) Neuquén - Neuquén - Argentina
Tel: +54 299 443-4866/ 4896/ 1740