| | |
| --- | --- |
| Estimated reading time: 2 min. | Marcelo Sola Jorge González |
A very interesting gourmet proposal at the time of visiting the city harbor. After an unforgettable excursion, taste the fish and seafood from the Argentinian sea.
The refreshing and speedy tour in the semi-rigid left us speechless. Traveling at great speed, almost at water level, in search for the piebald dolphin was a fascinating experience.

After observing the unpublished performance by the Patagonian dolphin, which surfed and jumped in the immensity of the ocean landscape, we returned to the harbor of Rawson. In the distance, only the traces of the bright wake left by the boat on the surface of the water remained and were vanishing little by little.

The sea breeze had whetted our appetite and, as it was time for lunch, we resolved to take a break in order to delight our palate in the best place of the fishing harbor: Cantina Marcelino.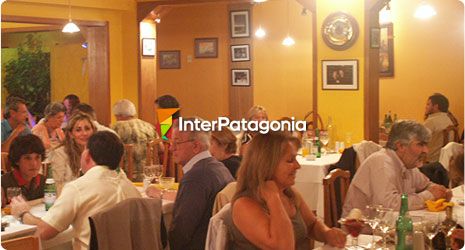 Sea Fruit

Located opposite the Rawson harbor, fishing icons decorate the warm environment of Cantina Marcelino.
The gastronomical proposal is quite broad, but its specialty revolves around fish and seafood.

This place is packed with history. Founded in 1971 by the present owners' grandmother, doña Guina de Luca González, it continues to abide by the rules that allowed it to win a position in the city harbor and in the hearts of the inhabitants of Rawson: hygiene, quality and customized assistance. Today it is named after her late husband, Don Marcelino González, who in the year 1955 arrived in the area to build the northern breakwater, thus becoming one of the first settlers of this place.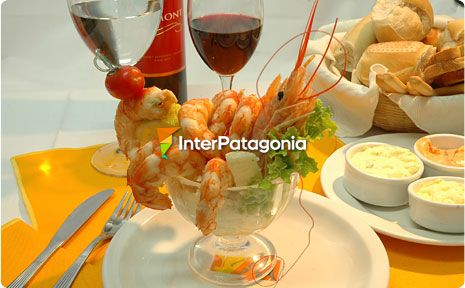 A glass cabinet displays several trophies achieved by Carlos Rocco, the "star" waiter, who won the waiters' regional championships in several opportunities, getting the title of South American Champion of the specialty, back in the year 1982.
We quickly noticed why he had obtained such distinctions, as it was him who assisted us.

In this opportunity, we ordered a seafood snack. A tray with twenty five small pots populated our table. Squid rings, cornalitos, mussels, scallops, octopus, calamareti, squids, shells, pejerrey, salmon, prawns and various sauces were spread before our senses. We did not take long to "attack" the attractive starter, which quickly turned into tiny traces.
As a main course, we did not hesitate to accept the recommendation made by "our" waiter: exquisite Rocco pollack. This sea fish was accompanied by a special sauce prepared with green onion, smoked bacon, cream, black pepper, salt and a garnish of crispy Spanish style potatoes. Mouth-watering!
To crown it all, we chose the traditional homemade custard with cream. By then, we were more than satisfied. We ate very well; therefore, we made the promise to come back as soon as we could. The sea fruit had bewitched our senses.
| | | |
| --- | --- | --- |
| | In order to get to Rawson's harbor, you must leave the city heading for Playa Unión along Av. Antártica Argentina for 7 kilometers. Follow the information sign posts. | |
| | | |
| --- | --- | --- |
| | Open all week, both at noon and in the evening. | |
| | | |
| --- | --- | --- |
| | Specialty in fish and seafood. | |

Cantina Marcelino
Av. Marcelino Gonzalez 2474 (9103) Rawson - Chubut - Argentina
Tel: +54 280 449-6960













"For those who like mussels, I recommend that they order mussels a la marinera. Our chef prepares it by putting two spoonfuls of butter in a saucepan, chopped échalotte, accompanied by chopped parsley and garlic, a little pepper and dry white wine.
The mussels are put into the saucepan and cream and butter are added with some chopped parsley. It is to be served hot and that is it. It is an ideal dish for lovers… as it is aphrodisiac!"
Carlos Rocco
Waiter