| | |
| --- | --- |
| Estimated reading time: 1 min. | Karina Jozami Jorge González |
The waves of this beautiful beach in Rawson are ideal to experiment surfing in the Patagonian shores.
Next to the harbor, and only 6 kilometers from the City of Rawson, lies Unión Beach, a place where the wild beauty of the southern coasts shows off in large and quiet beaches.

The name "Unión" (Union) comes from an Italian boat that, back in 1876, ran aground and was wrecked in these waters after a storm.

This small and quiet bathing resort, nestled in the inner valley of the Chubut River, has a large bay, the open sea and good waves. The great tide differences uncover vast surfaces of fine clean sand and gravel free of algae. Furthermore, a constant and soft breeze pacifies the high temperatures typical of the summer in the Patagonian beaches. Due to these features, visitors may enjoy long strolls to behold the landscape and spend one day by the sea at Unión Beach.

It is also chosen as a meeting point to perform various sports activities all through the year, thus connecting great tourist destinations such as Trelew, Gaiman, Valdés Peninsula, Punta Tombo, Punta Norte, Florentino Ameghino Dam, Puerto Madryn and Camarones.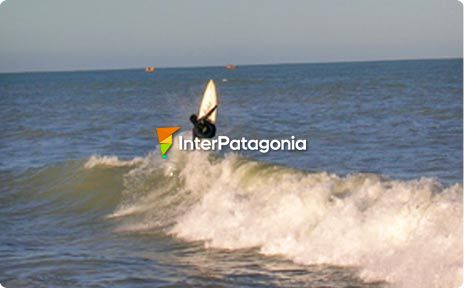 Cradle of Surfing

As a result of its favorable geographical and climatological features, Unión Beach is ideal to practice windsurfing and surfing.

Since February and until the end of April, surfers gather at Unión Beach to show off their skills. The waves formed at its shores are known as "fat waves" because they have a short slope and an average height of 1.5 meters. They usually run three or four hours before the low tide. The "hollow" or "tube" waves, which have a stressed slope, run with the high tide and the off-shore wind and may be found in the area known as La Curva (the Bend) and at Rawson's harbor.

But as well as surfing, fishing is another great attraction at this beach. The Southern Atlantic Festival and the National Southern Fishermen Festival, which summon many visitors from the entire region, are held in January.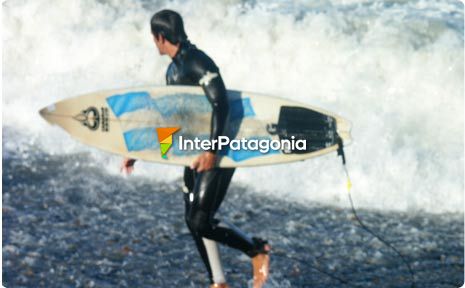 Likewise, motorboat tours leave from the pier to watch the skunk dolphins. This show is almost exclusive from these shores.

As well, the photobiology station, where the effects of solar radiation over various organisms is studied, is open for visitors.
| | | |
| --- | --- | --- |
| | in order to make the most of the water sports activities at the sea, it is advisable to wear neoprene suits. | |