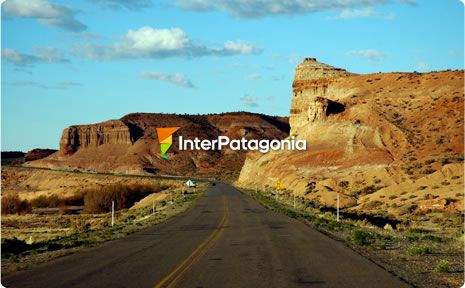 In the middle of the Patagonian high plateau, we find the place known as Valle de los Altares (Altars Valley). Huge cliffs emerge from the soil in order to be admired by tourists who pass by.
The Southern part of the Northern Patagonian high plateau may be toured from
Trelew
in an East-West direction and crossing the place known as
Valle de los Altares
(Altars Valley), a splendid ravine reminiscent of the Jurassic period. To reach this impressive site, visitors must travel 281 kilometers along National Route 25 bordering the winding Chubut River going through various sites which used to be dwelled by the Welsh pioneers.
Gaiman
, Dolavon and Valle de los Mártires give away the hard life in these lands. After some time,
Valle de los Altares
is reached. This stone formation, which resembles giant altars, opens up on the way with a particular kind of landscape beauty. It is a must to behold this feature and even seize the opportunity to take excellent photographs.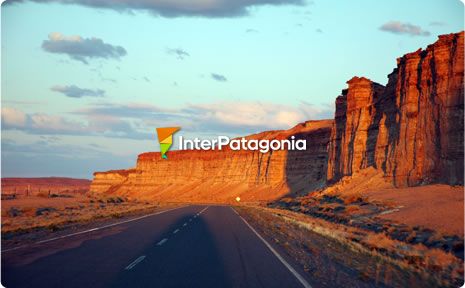 This site features sandstone formations called
"clastros"
with multiple reddish layers well defined by the corrosion and erosion of the water and the wind. They give shape to a kind of natural totems that rise towards the sky with the most accurate verticality. While observing the various shapes formed by the cliffs, viewers may play with their imagination trying to compare the undulations with several familiar objects. Very close, there lies a Patagonian rock painting site under presently the custody of the Provincial Department of Culture. A native painting measuring 93 per 53 centimeters dates from the X century and is made of mineral pigments mixed with organic matter.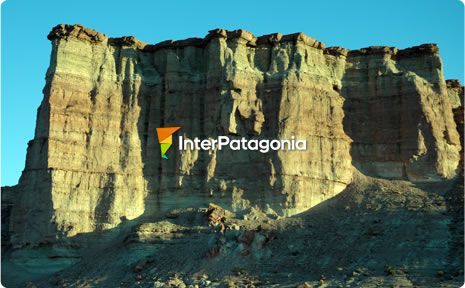 After enjoying this spectacular scenery, we recommend that visitors continue their journey towards the small village of Las Plumas, which lies nearby. This hamlet has a gas station, a restaurant and a coffee-shop where we recommend that they taste a delicious sandwich made of raw ham, cheese and bread baked by the local women. For those who like souvenirs, it is possible to acquire some arrow points made by the local craftsmen, direct descendants of the
Tehuelche
natives in the area. It is not necessary to search remote places in order to find beauty in the Patagonian soil. Visitors just need to travel along the regular roads or paths and nature will appear magically and freely before all of us.