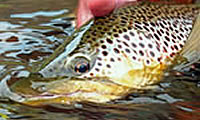 How to set a fish free
1. Do not let the fish become exhausted.
2. Try to touch it as little as possible. If it is necessary to keep it, do it inside the water while you let it rest on the palm of your hand without pressing.
3. Do not introduce you fingers or objects in its branchial cavities.
4. If you use a hook without a fin, just rotate it with a small pair of pliers when you extract it.
5. If the extraction is difficult, cut the line near the mouth of the fish. Do not pull the hook.
6. If the fish finds it difficult to recover, place it facing the current and move it gently back and forth in such a way that fresh water penetrates in its mouth and comes out through its gills.
7. Do not hit it or throw it into the water. Always let the fish escape by its own means after recovering.