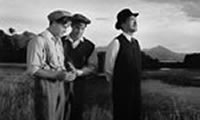 A River Runs through It
There exists a movie that masterly reflects the fly-fishing philosophy.
The author's literary début took place when he was turning 73. When Robert Redford told him that A River Runs through It had become an obsession for him and that he wanted to make the movie, the author replied: "I have taken 40 years to write this and I am not going to let Hollywood turn it into pornography".
Norman Maclean had had already discarded other offers. One of them from William Hurt, another lover of fly-fishing. In order to please Maclean, Hurt proposed a fishing excursion. But as the actor did not have a licensed, Maclean sentenced: "Then, I will not fish with Hurt".
The actor came back some days later with a license. They fished together and, finally, Hurt offered himself for the role of Paul, Maclean's younger brother and main character in the story. "Well, Bill, you're a pretty good fisherman but not good enough to be my brother" the writer replied. Hurt expressed: "If I am not good enough, maybe I could play Norman Maclean in the movie". The author's answer was devastating: "Of course you could play Norman Maclean, but he was not 80 years old at the time of the events I tell in the novel".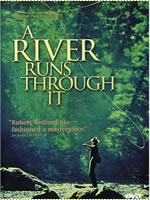 Finally, Robert Redford agreed on the author checking the script. But Maclean died at the age of 87, after a lifetime devoted to literature, fly-fishing and unravel the mystery of human condition.
Nada es para siempre (A River Runs through It) Muchnik Editores - 1992