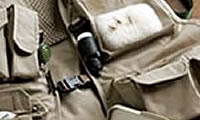 Clothes
A fly-fisherman's clothing and equipment must be comfortable and safe, as is the case with any water sport. Though it is impossible to carry everything a fisherman might need on their person, certain considerations and elements shouldn't to be forgotten in order to guarantee a day's fly-fishing.
Adequate interior clothing is fundamental when dressing for a fly-fishing outing. Fleece or wool socks, long underwear, and sweaters are essential.
When purchasing new clothing and equipment it is best to select items that are have ocher or earth tones, such as brown or green. These colors help fishermen camouflage within the aquatic environment, making them as least noticeable as possible to the fish.
A fisherman must wear a pair of pants that are not too tight or too loose. Jeans are not recommended because they are uncomfortable and restrict movement when worn inside a pair of waders. Long underwear, khakis, sweatpants, and the popular Argentine bombacha safari pants are ideal.
Finally, the crowning piece of fly-fishing apparel—and not just because it goes on your head, or because it is they international symbol of fly-fishing—, the fishing hat. The best fishing hats are wide brimmed to help protect fishermen from the sun, rain, wind and cold. With regards to the prior, it is of course advisable that fly-fishermen wear adequate sun block and sunglasses.