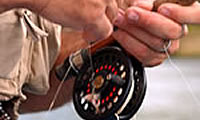 The Fly Reel
The fly reel does not have the same vital importance as it with other sport fishing. A reel is composed of a spool-like device whose principal function is to store a long amount of fishing line. Nonetheless, selecting an adequate fly reel will largely determine a fisherman's success.
Minute differences
The primary differences among fly-fishing reels are the difference in braking mechanism. The braking system is what controls how much fly line is released at what rate of speed, intended for the scenario when a large fish takes a fly and attempts to swim up or down stream to escape. The most common is the friction brake system—similar to the drum brake of a car in design—which a fisherman controls manually. The highest quality reels have a disk brake design that allows the reel to give constant braking resistance without needing to be operated by hand.
The basic considerations when purchasing a fly reel is the circumference and how much reserve backing it can contain. The circumference of a reel is determined in relationship to the size, weight, and strength of the intended sport fish. These factors are also taken into account when deciding how much "backing" fishing line a fly rod will hold. "Backing" is nothing more than a reserve of dracon (¿) fishing line that won't deform, break, or stretch and is wound onto a reel before attaching the regular fly fishing line.
A quality fly reel is quickly interchangeable, allowing fishermen to trade between floating or sinking lines as the conditions of a river may require. For this reason, fly reels are universal, and not constructed for specific floating or sinking fly lines. Fly reels of excellent quality exist for every type of fly-fishing sport activity.