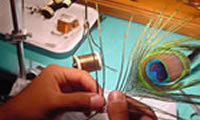 Mad about Tying
How do you fish when there is no fishing? How do you enjoy a passion when you have to wait for months? How do you keep yourself from going mad while you wait?
The Season is Over
Fishing trout and salmonida in Argentinian and Chilean Patagonia is pure magic. It is hard to put it into words without feeling touched and nostalgic about the old days, the old friends, the old memories and the mythological fish we have come across in our lives.
This beautiful madness starts every year early in November, both in rivers and lakes, until May 31, when the season is closed to protect the species.
When this happens, fly-fishermen begin to migrate towards other environments where we have the possibility of fighting a duel with other species of significant sport value, such as the dorado, the tararira or even the pejerrey, but Patagonia has to wait until the following year.
Who Has Been Here?
It is in these moments that the fishermen go in search of their fishing box and start to watch that something has happened. That incredible fly made of green pheasant feathers with violet and yellow shades which had been the perfect streamer during the season is no longer here. "There are no more dry flies left, dad" was the phrase that made us aware of the truth: the season has left unforgettable trout but it has also taken away unforgettable flies.
And when it comes to the nymphs, those flies that can fish when no one can fish, those weird flies that imitate practically unrepeatable larva states, they always work at the time of catching fish if well-manipulated in the water.
When this happens, we realize that the season is over and that we have to continue fishing indoors in order to be ready by November 1.
Fly-Tying Has Begun
In the XX century, mass-production has shown the world that everything could be made in large scale. This represented progress in many ways, but it was also disappointing. Hand work and craft were replaced by large machines that did in a couple of minutes what men took hours to finish.
Fishing could not escape disappointment. However, beyond the rods, the reels and the lines, fly-tying continues to be under man's domain. There may be thousands and thousands of flies all over the world, but all of them have been tied by different men: apprentices, amateurs, professionals or craftsmen who have learned the technique or had the skilled to do it. But they all had to tie them themselves.
This ritual starts when the fishing season is over and it is repeated at each club and association where thousands of fly-fishermen continue to gather in order to learn more about this sport.
It is Best to Have your Own
Even if there are many fishermen who prefer to buy them at the market, tying flies is a pleasant practice itself. Beyond the patience each angler may have, the fact of hanging out with friends searching for the perfect fly has its own motivations.
Each fly has its own tying technique and a certain choice of materials. It is necessary to acquire experience by watching others in order to understand when a fly is well tied and when it is not.
The satisfaction reached by an angler when their own fly manages to catch a fish is indescribable. It is the very essence and the spirit of this wonderful activity called fly-fishing which generates passion and fanatism, even out of season.