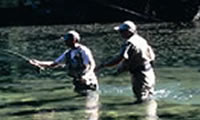 Safety
Even though a good fly-fishing outfit protects a fishermen from hardly getting wet, it would be foolish to forget that river wading is a water activity. A river's current and depth must be respected because they are the principle dangers of river wading.
To ensure safety, fly-fishermen must not enter the water above their waist. Any deeper and a fisherman runs the risk of slipping, being swept by the current, or water filling their waders. River waders must never forget that waders do allow them to safely enter a river's waters, but they do not make them invincible. Really, a pair of waders is just a water tight sack worn around the lower body, and when filled with water it will sink along with anybody attached to them.

Mountain Biking
Enter the two-wheel world and learn the secrets of mountain biking to go around the mountain in the safest way.
This sport is one of the quickest to have evolved with the passing of time, becoming a much more risky and amusing modality to enjoy the most inaccessible and complicated paths in the mountain.

Read more...

Paleontology
Approximately 65 million years ago, a large percentage of vegetables and animals suddenly became extinct. It was in the late Cretaceous period and there are various theories about it. Some scientists attribute this event to a gradual process that finally led to selective extinction. Others assert that a catastrophe, such as an asteroid hitting the Earth, caused these species mass extinction.

Read more...