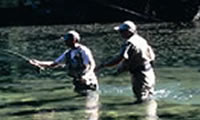 Safety
Even though a good fly-fishing outfit protects a fishermen from hardly getting wet, it would be foolish to forget that river wading is a water activity. A river's current and depth must be respected because they are the principle dangers of river wading.
To ensure safety, fly-fishermen must not enter the water above their waist. Any deeper and a fisherman runs the risk of slipping, being swept by the current, or water filling their waders. River waders must never forget that waders do allow them to safely enter a river's waters, but they do not make them invincible. Really, a pair of waders is just a water tight sack worn around the lower body, and when filled with water it will sink along with anybody attached to them.

Nautical Activities
The beauty of the lakes located in the Patagonian area or the large sea bathing its Atlantic coast offer the ideal frame for the practice of nautical sports.
Surfing is a very complete sport, which forces sportsmen to train. It is intriguing, exciting, exhausting and it breaks with the activities you can perform on solid ground.
Cold blood and steel nerves are required in order to practice kayaking.

Read more...

Hiking in Patagonia
Hiking or walking is an activity practiced in all kinds of terrains and is not restricted to age, gender or physical fitness.
As in every task, there are various levels of difficulty, which can be surpassed gradually as experience is gained. The routes are divided into four types of difficulty: relaxed, medium, steady and difficult.

Read more...