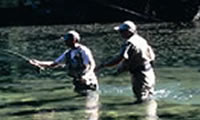 Safety
Even though a good fly-fishing outfit protects a fishermen from hardly getting wet, it would be foolish to forget that river wading is a water activity. A river's current and depth must be respected because they are the principle dangers of river wading.
To ensure safety, fly-fishermen must not enter the water above their waist. Any deeper and a fisherman runs the risk of slipping, being swept by the current, or water filling their waders. River waders must never forget that waders do allow them to safely enter a river's waters, but they do not make them invincible. Really, a pair of waders is just a water tight sack worn around the lower body, and when filled with water it will sink along with anybody attached to them.

Mountaineering
Make up your mind and climb, ascend or rappel down the most impressive mountains in Patagonia and become a great climber.
Considered as a high risk sport, it requires physical strength of arms and legs at the same time, combined with the technical skill of the climber.
We recommend that beginners do not start by climbing on natural walls, but in artificial ones and under the assistance of a professional guide.

Read more...

Patagonian estancias
The rise of the estancias has changed the empty limitless space into a rural production environment that enabled the country to be positioned among the first suppliers of raw material in the world.
Towards the south, the estancias have given the scenery a new shape. Getting through the harsh winter, the intense snowfalls and the incessant wind, they have become real settlements scattered in the vastness of the fields.

Read more...