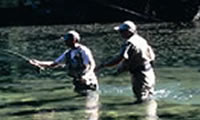 Safety
Even though a good fly-fishing outfit protects a fishermen from hardly getting wet, it would be foolish to forget that river wading is a water activity. A river's current and depth must be respected because they are the principle dangers of river wading.
To ensure safety, fly-fishermen must not enter the water above their waist. Any deeper and a fisherman runs the risk of slipping, being swept by the current, or water filling their waders. River waders must never forget that waders do allow them to safely enter a river's waters, but they do not make them invincible. Really, a pair of waders is just a water tight sack worn around the lower body, and when filled with water it will sink along with anybody attached to them.

Patagonian wines
Located in the southern end of the American continent, Patagonia meets several natural conditions and characteristics ideal for growing vineyards.
Pure air, clear skies and endless silences are only interrupted by the whispers of the winds that cross the area from the Andes Mountain Range to the Atlantic Ocean, carrying the mysterious aromas of the bushes and the wild berries.

Read more...

My Trip in photos
Enter Interpatagonia's photographic community and leave your picture to share it with the thousands of visitors that surf our site everyday. Tourist attractions, emblematic sceneries, beautiful cities and unforgettable situations are some of the many instances displayed by the photographs readers upload. Yours is asking to be here too.

Read more...