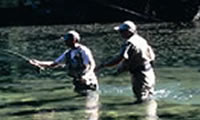 Safety
Even though a good fly-fishing outfit protects a fishermen from hardly getting wet, it would be foolish to forget that river wading is a water activity. A river's current and depth must be respected because they are the principle dangers of river wading.
To ensure safety, fly-fishermen must not enter the water above their waist. Any deeper and a fisherman runs the risk of slipping, being swept by the current, or water filling their waders. River waders must never forget that waders do allow them to safely enter a river's waters, but they do not make them invincible. Really, a pair of waders is just a water tight sack worn around the lower body, and when filled with water it will sink along with anybody attached to them.

Golf in Patagonia
Among the various activities developed on Patagonian soil, the practice of golf has been gaining more and more strength in the last few years. Patagonia presents a great diversity, made up by magnificent sceneries for the development of this sport. Enjoying physical exercise and the delight of nature are combined in all its richness and variety.

Read more...

4x4 - Quad Rides
Within this section, there are several activities that are closely related to adventure and risk, capable of generating bursts of adrenaline at an unusual rhythm.
Exciting excursions on 4 x 4 vehicles or challenging quad rides captivate the senses at the same time you can experience the joy of seeing and enjoying nature in its purest state from a different point of view.

Read more...