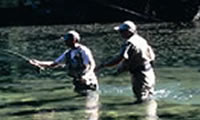 Safety
Even though a good fly-fishing outfit protects a fishermen from hardly getting wet, it would be foolish to forget that river wading is a water activity. A river's current and depth must be respected because they are the principle dangers of river wading.
To ensure safety, fly-fishermen must not enter the water above their waist. Any deeper and a fisherman runs the risk of slipping, being swept by the current, or water filling their waders. River waders must never forget that waders do allow them to safely enter a river's waters, but they do not make them invincible. Really, a pair of waders is just a water tight sack worn around the lower body, and when filled with water it will sink along with anybody attached to them.

Diving
This is one of the most complete sensations that the human being may feel.
Through diving, man could visit the bottom of the sea, see a sub-aquatic world, stroke fish and visit legendary shipwrecks, feeling completely safe and adapted to the water environment.
In order to practice this activity, it is not necessary to be in great shape, or to have a well-defined swimming style.

Read more...

Rafting
Rafting is a team sport, in which all the crew members in the boat row and position themselves in a coordinated manner in order to balance their weight when going through the river rapids and keep themselves afloat.
The standard number of people allowed on the boat is from six to eight crew members, depending on the boat size.
Rafting beginners are recommended to remain in the center of the boat. Those who are somehow experienced and prefer to row may stay in front, whereas the most experienced generally stay at the back.

Read more...