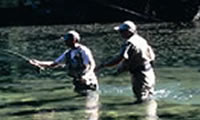 Safety
Even though a good fly-fishing outfit protects a fishermen from hardly getting wet, it would be foolish to forget that river wading is a water activity. A river's current and depth must be respected because they are the principle dangers of river wading.
To ensure safety, fly-fishermen must not enter the water above their waist. Any deeper and a fisherman runs the risk of slipping, being swept by the current, or water filling their waders. River waders must never forget that waders do allow them to safely enter a river's waters, but they do not make them invincible. Really, a pair of waders is just a water tight sack worn around the lower body, and when filled with water it will sink along with anybody attached to them.

Patagonia hot springs
Patagonia has a great deal of geographical faults with remarkable geothermal and volcanic activity. These features explain the existence of various sources with hot spring waters. The diversity existing in this area of South America ranges from warm water issuing from the ground, rich in minerals, to geysers with boiling water.

Read more...

Canopy
Canopy is a new adventure sport whose main objective is to offer a unique activity and a different ecological experience which consists in not altering the habitat.
The feeling of going through the Valdivian forest or the Andean Patagonian forest from the tops of the trees, swinging or hanging in the middle of nowhere, is both funny and exciting.

Read more...