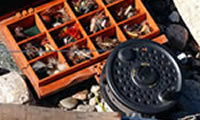 Imitators and Impersonators
There are two categories that fall under the greater classification of "artificial flies". One group are the "imitators", artificial flies that attempt to look and act like real-life insects.
The second group are "impersonators", which do not imitate any specific insect from reality. One could correctly say that what this second group impersonates more than anything are their fly-fishermen creators. Nonetheless, "impersonator" flies are successful at inviting strikes because they are either bothersome or irresistible to the trout that see them. Many believe that trout, as well as the major species of Hunter Fish, are territorial animals, causing them to attack anything that enters their territory that they perceive as threatening.