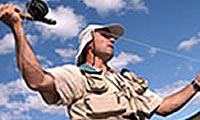 The Leader
A nylon "leader" is tied in between the line and the artificial fly. The leader is important because it transfers the essential throwing weight for successful fly casting.
We could well refer to it as "the end of the line".
Throughout the cast, the leader must be as subtle as possible so that the fly may be the protagonist. For beginners this simply means that the fly must land on the water prior to the leader, and not vice versa. The right presentation of an artificial fly on the water is something that becomes more precise with time and practice.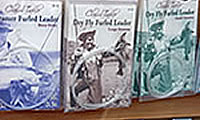 All leaders have three parts which diminish in width as we get closer to the fly. The first part is called the "butt". It is the strongest, most resistant section of the leader and it is tied to the line. Next is the section called "taper", which in turn leads to the "tippet", the finest and weakest end where an artificial fly is tied.
The leader serves as the "fuse" of the entire fly-fishing mechanism. It is constructed to withstand the stress of "hooking" a big fish and to be the breaking point in order to protect the rest of the fly-fishing equipment. A successful fly-fishing outing depends on the fly-fisherman's leader.