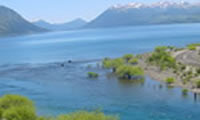 Let the Magic Go on
When I heard the comment, it sounded ridiculous, even as a bad joke. But when I saw with my own eyes that it was something real, I felt like crying. I would even say that a couple of tears were dropped into the crystal-clear waters of the beautiful river.
For those readers who have not understood it yet, let me tell you that, at present, at the mouth of the Chimehuín river in Lake Huechulafquen (Junín de los Andes), a mythical and worship place for sport anglers from all round the world, un lugar mítico y de culto para los pescadores deportivos de todo el mundo, stands the wooden skeleton of a hotel under construction.
It is a real show of disrespect, not only for anglers, but also for tourists in general, who are currently enjoying a magical place, modified by the kind of mistakes made by some men: building where they should not build.
Unfortunately, it sometimes happens that some people's dreams face other people's dreams. What is important is that the provincial or national authorities become aware in time that the dreams of all are much worthier.
I do not believe that there are good or evil men. I do believe, and maybe I am too positive, that most of us may make a mistake, whether consciously or not. But those who, once knowing that the damage exists, do nothing to revert it are evil.
Maybe this reaches the owner or the owners of such a piece of ridiculousness. I may be cursed or ignored. It does not matter. It is them who I would like to tell that the mouth of the Chimehuín is one of the few sites in the world where God is still seen, without any need to ask permission from men. And I do hope, for the sake of everybody's dreams, that it continues to be so for good.