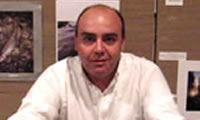 Carlos Villaggi -
Member of the AAPM
"There are four mainstays in the management of sport fishing: education, research, legislation and control. At present, legislation is working much better than the others. I can assure that legislation is very good, but if no control exists, it is useless. Although controlling is not everything; essentially, the angler must be educated."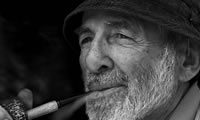 Mel Krieger
(1928-2008)
On October 7, 2008, 80-year-old Mel Krieger stopped fishing and became one of the greatest myths of fly-casting. We know farewells are sad, but we are certain that every new season, our beloved Patagonia and the entire world will be honored by the memory of his greatness. Years may pass and Mel will go on fishing with us …
"...We all must contribute to the health and the beauty of the rivers and lakes. We must keep them clean, both as regards the purity of the water and the purity of the banks and shores. There must exist a strict limitation as to the number of fish that may be killed. The application of the catch and release concept must be considered in many, if not in all, of our waters. It would be ideal that the fish population as well as water basin may keep this critical balance point that exists in all the great fishing areas and that a philosophy that elevates the fishing experience to a superior level than that of being an instinct of man for the search of his food be applied.."