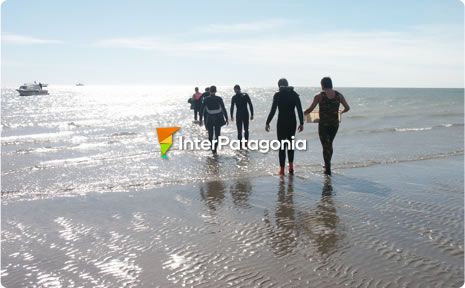 Sport SCUBA diving is one of the most fascinating sea activities. Both Viedma and Carmen de Patagones offer a variety of sites.
From
Viedma-Carmen de Patagones
, it is advisable to take National Route 3 towards
San Antonio Oeste
and turn left into the gravel road to Punta Mejillón where you will find the best diving sites opposite the cliffs of the Gulf of San Matías. There are several points to access the beach with vehicles and boats so jeeps or pickup trucks with zodiacs are a common sight at the seaside whether for fishing or diving. Many of these boats are equipped with navigation systems such as GPS which enable them to locate the sea bed quickly and safely favouring a stealthy approach to and discovery of under water wonders. Divers will discover salmon, wreckfish and huge grouper among others, and even experienced divers will be delighted by the variety of marine flora.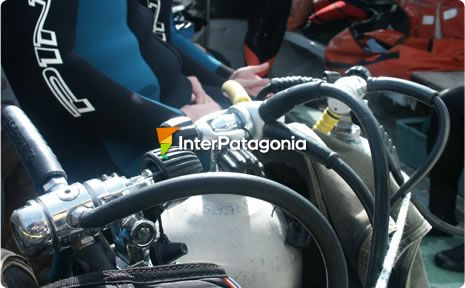 Bahía Creek and Caleta de los Loros are usually chosen to begin immersions. Because this site has excellent visibility, everything it has to offer can be seen at a depth of 20 metres. One of the characteristics of this type of sea bed is precisely how easy it is to see the huge stones, covered in mussels and seaweed of different sizes that constitute it. This is why even those whose baptism has been in these waters can quickly and naturally enjoy everything there is under water without having to surpass a 15 to 20-meter immersion. Although diving is not new to the area, sport diving has only been practised for a few years so there haven't been as many immersions as in other places where the sea has been significantly altered by human presence. The Atlantic Ocean and the cliffs form a perfect partnership and, no matter which place you choose at sunset, it will become a heavenly sight. A sight which can only be experienced here, in the entrancing waters of the Gulf of San Matías.